Last Updated: 2018.04.25
to Japanese page
Sharing a common vision
As the global apparel market grows increasingly diverse, for employees to demonstrate their capabilities and be empowered in the workplace, it is essential that they share a common vision. To provide opportunities for management to explain the Fast Retailing Group's vision and policies, Fast Retailing holds a convention in Japan twice every year, attended by about 5,000 store managers and head office personnel.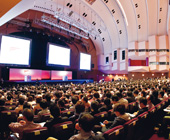 Helping employees advance their careers
As part of its efforts to help employees advance their careers, Fast Retailing has established a personal career planning system that allows employees to directly inform human resources about their career ambitions, as well as an internal recruitment system that lets employees apply for a transfer to another store or head office department. Meanwhile, human resources personnel together with managers and department heads of each company in the Fast Retailing Group have been organizing human resources development conferences since August 2017 to discuss employee career planning, and systematically appointing, transferring, and promoting individuals. Moreover, a database integrating information on the skills, evaluations, and career tracks of every employee in the Group was created in 2017 and the Global Human Resources Department was set up to optimally reassign employees from a global standpoint.
Evaluation system to support career advancement
The Fast Retailing Group adopted a new employee evaluation system in October 2017 to more accurately assess the job performance of employees. The system not only grades personnel on their observable accomplishments but also incorporates a 360-degree review process through which they are evaluated by supervisors, peers, and subordinates. To ensure fair and transparent employee evaluations and remuneration group-wide, Fast Retailing also adopted a global grading system that clearly specifies the prerequisites and skills required for all types of job positions. Standardized evaluation guidelines have been used across the Group since 2015 in order to minimize national or regional biases, evaluator bias, and performance bias in evaluations.
Dispatching Employees to Refugee Camps
Fast Retailing has created a program for dispatching its employees to refugee camps overseen by the UNHCR, allowing them to learn about the international refugee situation in countries receiving support. Please refer to this webpage for more information.
Regional Regular Employee System
Some employees are not able to relocate from their cities due to various personal circumstances, such as childcare and nursing care responsibilities. Therefore, UNIQLO Japan and GU Japan adopted a regional regular (non-relocation) employee system in 2014 to ensure that motivated and capable employees can still successfully advance their careers in the same location. The system allows each person to continue working as a full-time employee for a long time in the location of his or her choice, and also choose from a variety of work arrangements, such as shortened work hours or a four-day work week. Employees who continue working in the same location are regarded as assets for the Fast Retailing Group because of their strong ties with local customers and ability to respond to local needs.
The system is not only designed to allow locally based employees to continue working for a long period of time, but also encourage them to set higher goals and pursue more diverse career tracks. Accordingly, they can be eligible for promotion to a store or area manager position within their local area, or a full-time position at a country-wide head office.
More detailed information about the regional regular employee system is available as follows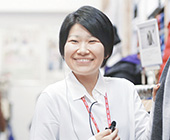 A locally based employee receiving training

Top of page