Last Updated: 2018.12.19
to Japanese page
Fast Retailing teaches nutrition, hygiene, health management and other life skills to employees at partner factories, helping individuals involved in garment manufacturing live more stable and fulfilling lives.
Teaching Life Skills to Employees at Partner Factories
Among the UNIQLO production centers, one of the most notable social issues is the lack of basic education opportunities for garment industry employees in Bangladesh and Indonesia. Due to the lack of sufficient education, people in these regions have difficulty preventing disease or planning for the future for themselves and their families. This situation results in unstable income and living conditions.
To address these circumstances, UNIQLO launched the Factory Worker Empowerment Project, which makes use of a portion of profits from eligible product sales. Through programs conducted by BSR, an international NPO with a history of successes in educational support in emerging economies, employees working in partner factories have access to education and basic nutrition, hygiene and health management (including pregnancy and birth care), home finances, and other life skills. UNIQLO began seminars and workshops in April 2015 in Bangladesh and in June 2016 in Indonesia.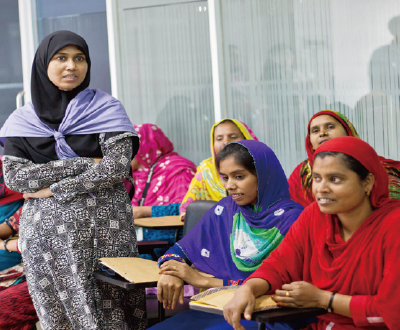 Workshops at a partner factory in Bangladesh

Top of page