Last Updated: 2018.04.25
to Japanese page
Together with Grameen Bank, we are boldly moving forward with the unprecedented launch of a completely new social business
In this era of accelerated globalization, companies must be aware of the impact their actions have on an international scale. The developing nations are especially affected by the actions of multinational businesses. Social business provides a very effective means for these companies to do good for society on a continuing, sustainable basis.
Social business fills a gap in the free market economic structure by addressing the needs of the poor in a sustainable way. They run parallel to conventional, profit-maximizing businesses. The current economic system assumes that human beings are one-dimensional, only interested in amassing profit. The reality is there are many other dimensions to human lives: social, familial, spiritual and more. Social business expresses the urge to do good for people.
As social business becomes larger and more widespread, the poor can become empowered to bring themselves out of poverty. They are gifted with the same potentials as the rest of us; we just need to provide them with the opportunities to unleash them. I hope social business will change society in Bangladesh, and globally, by offering a new kind of business targeted toward solving social problems. Social businesses are still businesses, and the sense of competition, innovation, and efficiency encouraged in the business world can be harnessed to target social ills and improve the world without concern for personal gain.
Fast Retailing is the first Japanese company to sign a memorandum of understanding for social business with the Grameen family, and other businesses are already following its lead. There are challenges to be faced in starting any new business. But, with the expert input of Fast Retailing, coupled with the support and guidance provided by the Yunus Center and the rest of the Grameen family, I am confident we can meet any challenges head on.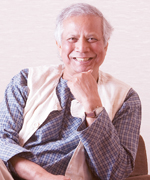 Professor Muhammad Yunus Founder and managing director of Grameen Bank
A Bangladeshi banker and economist, Yunus pioneered the concept of microcredit, the practice of extending small, collateral-free loans to the poor. In 2006, Yunus and the Grameen Bank received the Nobel Peace Prize for contributions to spurring economic and social development among the poor through microcredit.

Top of page