Last Updated: 2021.08.26
to Japanese page
Fast Retailing established Grameen UNIQLO in Bangladesh as a social business designed to contribute to the country's garment industry and address social issues.
Grameen UNIQLO
In 2010, Fast Retailing launched a social business in Bangladesh together with Grameen Bank, a bank founded by Nobel Peace Prize winner Muhammad Yunus. In the following year, we established a joint venture with Grameen, forming Grameen UNIQLO Ltd. Bangladesh is an important production center for the Fast Retailing Group. The country is experiencing remarkable economic development, relying on garment manufacturing as one of the core industries. At the same time, the country struggles with poverty, health, and other problems. Through Grameen UNIQLO, Fast Retailing aims to play a role in resolving these issues.
Approach
Grameen UNIQLO aims to play a role in improving communities in Bangladesh. To accomplish this goal, all Grameen UNIQLO clothing is produced and sold in Bangladesh, with all profits reinvested into the business. By creating jobs in a secure, safe environment, we help make life better for the people of Bangladesh.
①

Offering Employees a Secure Workplace
We offer employees healthy, safe and secure working environments. We hope to serve as a role model in changing the work environment in Bangladesh.

②

Supporting Employees at Partner Factories
All products sold by Grameen UNIQLO are produced in garment factories in Bangladesh. We work with partner factories to improve working conditions, including basic employee education opportunities for better health, creating workplace environments in which factory employees can work stable jobs in security and safety. We believe positive working environments lead to employment growth in local communities.
As part of its social contribution activities, Grameen UNIQLO provides clothing to members of the local community living in poverty and to victims of natural disasters. This year, the company will begin working with Japanese companies to expand the scope of support activities. Grameen UNIQLO sells products for which all profits are donated to charities, encouraging customers to partner with the company in socially conscious efforts.
The Grameen UNIQLO Social Business Model
Grameen UNIQLO performs all business-related process, from production through sales, completely within Bangladesh. The company sells products planned and designed by locally hired staff (produced in local factories) through 16 direct retail stores in Bangladesh (as of August 2021). Grameen UNIQLO offers casual wear and traditional Bangladesh apparel at reasonable prices for locals. The company reinvests all profits from the sale of clothing back into the business.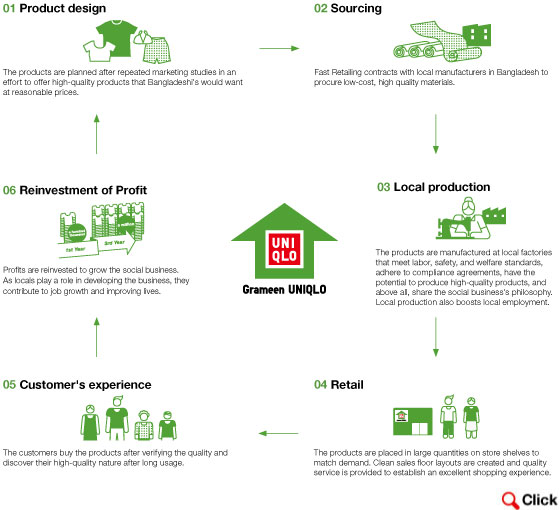 Related Links

Top of page