Last Updated: 2017.05.30
New Community Initiatives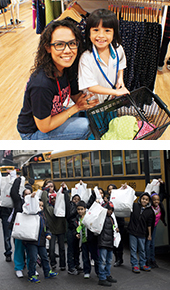 Alongside its global sustainability initiatives, the Fast Retailing Group values community-based efforts that address local social issues. In 2013 UNIQLO Singapore began a project that is now known as the In-Store Shopping Experience. The project aims to improve life skills of children that seldom have opportunities to shop due to difficulties calculating and memorizing or other challenges by nurturing the ability to choose clothing and manage a budget. The Company's clothes, stores, and employees are made available to simulate the social experience of choosing clothes, shopping, and receiving genuine customer service.
The initiative has since spread to UNIQLO stores around the world, including the U.S., South Korea, Malaysia, Germany, Australia, China, Japan, Thailand, Taiwan, Hong Kong, Indonesia, the U.K., and France. Events at each location are adapted to meet specific local needs−for instance, incorporating retail learning experience programs and extending assistance not only to those with disabilities but also to underprivileged children, the homeless, and others.
The Fast Retailing Group continues to address the needs of the communities where we do business, and develop best practices in partnership with NGOs, governments, and other stakeholders. By sharing these practices across the Group, we aim to create positive change in communities around the world.
Note: Currency conversion amounts are general estimates based on exchange rates at the time of the activity.
UNIQLO Singapore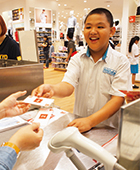 UNIQLO Singapore views greater integration of people with disabilities in community building efforts as a social mission. Its proactive efforts to aid people with disabilities include supporting Special Olympics Singapore and holding communication events for people with disabilities. Such efforts have led to critical praise and numerous awards for UNIQLO Singapore. It is also working in partnership with SG Enable, an organization founded by the government to aid people with disabilities, to promote training initiatives that will enable more people with disabilities to work in the retail industry.
In Singapore, UNIQLO regularly holds In-Store Shopping Experience events for children with intellectual disabilities. Children are each given a voucher worth 100 Singapore dollars (around US$80) and invited to shop at a UNIQLO store. The experience helps them develop important life skills and confidence around deciding what to wear and calculating what they can afford within a given budget--activities they rarely put into practice in everyday life. UNIQLO has also made a detailed record of operational procedures and results, created a pre-event training manual, and promoted the initiative within and outside the company, to encourage more stores and employees to participate.
UNIQLO Malaysia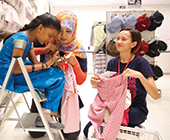 UNIQLO Malaysia has been holding In-Store Shopping Experience events for children facing intellectual challenges since June 2014, following the model established by UNIQLO Singapore. The opportunity to shop on their own has helped the children to gain confidence and learn how to interact with others.
For each event, approximately twenty intellectually challenged children are invited to a UNIQLO store and presented a voucher worth 300 ringgits (about 10,000 yen), with forty employees assisting the children in selecting and purchasing the items. The children learn many things through the experience, yet it is often the employees who learn more. One employee volunteer said: "The shopping experience clearly had a positive effect on the children's confidence. When I witnessed that, I realized that this project is truly fantastic."
UNIQLO USA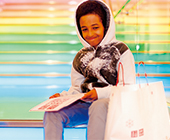 Since December 2013, UNIQLO stores in the United States have teamed up with local NGOs to hold In-Store Shopping Experience events during the holiday season to support the homeless. The project gives around 300 children living in homeless shelters the opportunity to choose and purchase new clothes, while also providing them with clothing essentials. The US$100 vouchers given to the children are supported in part by donations from UNIQLO customers.
After one of the events, Mandi Paige, the Program and Development Director at Children of Shelters, one of UNIQLO's partners, shared her thoughts: "We really appreciate UNIQLO's efforts. One boy spent most of his budget on a coat for his mother. Another child bought a coat for wearing when singing in a church choir. Many people may take such gifts for granted, but I think these gifts will have a profound impact on the lives of the children who participated."
UNIQLO South Korea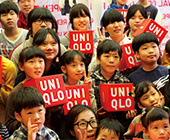 UNIQLO South Korea has prioritized community outreach initiatives and appointed people in charge of activities since it began operations. It was also the next business operation after UNIQLO Japan to hire people with disabilities. Furthermore, all employees, starting with top management, work on initiatives that are rooted in the community and were developed exclusively at UNIQLO South Korea. It has a framework that actively promotes community outreach initiatives. It appoints leaders for each area in addition to the people dedicated exclusively to community outreach activities.
UNIQLO South Korea has partnered with The Salvation Army Korea, a UN-associated NGO working for social justice. Together, they have held In-Store Shopping Experience events for children from Namsan Orphanage at the UNIQLO stores since April 2014. Targeting those who normally cannot afford to buy their own clothes, 100,000-won vouchers (about US$90) are given to an average of 80 children per event. Employees help the children choose their outfits, and calculate what they could buy within a given budget. The employees also learn just how special the opportunity is by seeing how the children are delighted with their new clothes.
UNIQLO Germany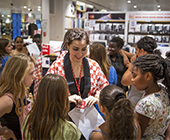 Since August 2014, UNIQLO has held In-Store Shopping Experience events for children from Die Arche, an NGO supporting disadvantaged children, in Berlin. Many of the children have never left their own neighborhood. Through the experience of shopping in an unfamiliar environment and interacting with new people, the event has helped them build interpersonal skills and manage a limited budget. The children receive vouchers worth 40 Euros (around US$50) and offered advice from store employees. Shopping is followed by a trip to the Berlin Zoological Garden.

Top of page