Last Updated: 2018.09.07
to Japanese page
Assistance for the Hokkaido Earthquake and the Japan Floods
Fast Retailing is now providing aid and support to heavily damaged regions.
As information for people requiring clothing assistance and specific support measures, please click here for the detail. (Japanese only)
Disaster Relief Activities Around the World
For information about the Fast Retailing Group's disaster relief activities, please refer to the following link.
Japan Disaster Assistance
Ongoing Disaster Aid Initiatives
Fast Retailing began numerous recovery assistance initiatives immediately after the Great East Japan Earthquake. Efforts included donating clothes, promoting voluntary initiatives that were started by its employees, and coordinating efforts with NGOs. In February 2012 Fast Retailing launched the UNIQLO Recovery Assistance Project as part of the ongoing effort. Three hundred million yen that came from customers buying select items at all stores in Japan on top of donations by customers went to funding NGOs that worked in northeastern Japan and aiding store openings, which provided much needed employment and hastened returns to semblances of normalcy, in the disaster area. Although the three-year Project ended in February 2015, Fast Retailing is continuing to pledge assistance and work on recovery initiatives with the citizens of the disaster area. We offer workplace experience, career education, and other training programs to Fukushima prefecture's high school students.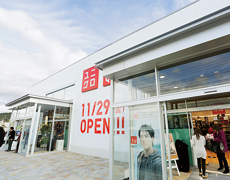 Fast Retailing supports the youth of today, the adults of tomorrow, in the belief assistance will hasten recovery. In March 2015, Fast Retailing and ADRA Japan, an NGO working in the disaster area, jointly organized a project, which involved 14 second-year students of Namie High School in Fukushima taking the initiative in planning, preparing, and implementing a business plan. The students planned a project that involved selling UNIQLO merchandise at temporary shelters. They drafted a concrete plan, created posters and flyers, and even selected the merchandise on their own. On the day of the sale, they presented and sold UNIQLO products while using the catalogs that they had made by hand to the residents at the shelter's temporary community center.
Support for High School Students in the Disaster Area Through Workplace Experience Projects (2014)
In March 2014 Fast Retailing and ADRA Japan jointly organized a workplace experience project for 14 first-year students of Fukushima prefecture's Futaba Senior High School at the UNIQLO Iwaki Onahama Store. The 14 were studying at a temporary location in Iwaki, Fukushima after evacuating from Futaba, a community bordering a crippled nuclear power plant. They discussed ideas, proposed fashions that reflected local needs, created posters, and served customers in an effort to make the UNIQLO Iwaki Onahama Store the region's most popular store.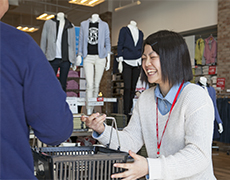 Temporary Stores Become Permanent Stores and Continue Serving Their Communities (Ongoing Since 2012)
The UNIQLO Kesennuma store opened as a temporary store on March 9, 2012 in Miyagi prefecture. It was initially scheduled to close after a year, but Fast Retailing decided to continue operations after receiving requests and support from local customers and local government agencies. The store reopened as a much larger full-fledged store on November 29, 2013. The UNIQLO Sea Plaza Kamaishi store in Iwate prefecture, which similarly opened as a temporary store on March 9, 2012, also continued operations as a regular store. The store reopened as the UNIQLO Aeon Town Kamaishi store on March 14, 2014 in response to the customers' requests for a bigger selection of items and a larger space. The UNIQLO Haramachi store in Fukushima prefecture, which was forced to temporarily close, has returned to full operations. All three stores will continue serving their communities as places of employment, sources of daily necessities and places to try on clothing.
NGO-Related Recovery Projects (2012)
Fast Retailing launched a program to donate a portion of all UNIQLO Japan sales in February 2012 to support earthquake recovery efforts. The Company collected about 300 million yen, which it combined with customer donations, to help fund five NGOs that are helping people to regain their independence: JEN, ADRA Japan, PlaNet Finance Japan, IVY, and Tohoku Common Profit Investment Fund. These efforts include initiatives to create jobs and provide economic assistance in Japan's Tohoku region. Fast Retailing employees also volunteered their time and efforts to the NGO's initiatives.
3.3 Billion Yen in Donations (2011)
In 2011, with the help of 347 employees, the Fast Retailing Group has donated roughly 1.2 million articles of clothing (including innerwear), valued at approximately 1 billion yen, to people living in the parts of Japan that were destroyed by the earthquake and tsunami. The total value of the cash and clothing that was donated was 3.3 billion yen.

Top of page