社員介紹
[English only]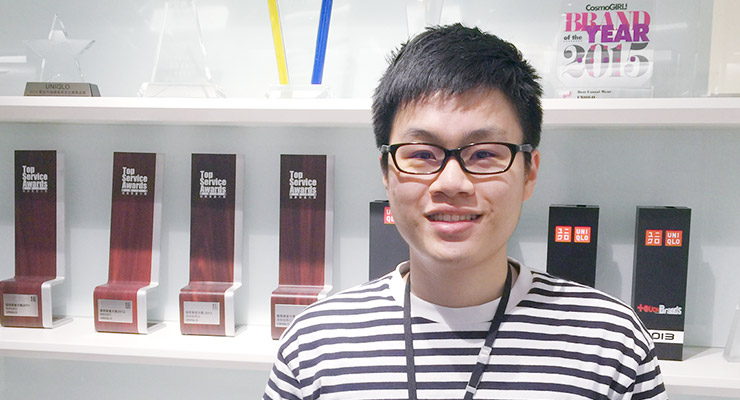 Hong Kong
Keith
UNIQLO
Senior Merchandiser
(Current: Canada Store Operations Coach)
Can you tell me about your career and current role at FR?
I started as UMC in Hong Kong at 2010 and became store manager 2 years later. After that , I was assigned to Singapore as store manager in 2013. Subsequently, I was assigned as Area manager, managing several stores and training the store managers.
Recently, I decided to return Hong Kong and join Merchandising team, responsible for merchandise planning. I aim to learn the most fundamental part of our business here and become a business leader in the future.
What do you want to achieve in the future?
In short term, I want to contribute and assist UNIQLO to achieve 2020 dream. I truly believe UNIQLO can be no.1 in the world. In long term, I want to develop myself more and want to be the first Franchise Owner in HK and be the role model of all employees.
What do you enjoy most about your job?
I enjoy challenges. I take one of the previous Yearly Principle "No Challenge, No Future" as my motto. There are unlimited chances in UNIQLO. As long as you are ready, UNIQLO will let you challenge different tasks, different roles, or even different locations. For me, I have never imagined I could be store manager, and even working oversea when I just started my career. It is really amazing.
Is there anything else that you would like to share?
It is not easy to work in company with high standard and expectation. I experienced a lot of failures in these 6 years. However, I consider the fundamental causes and try to tackle them every time. Eventually, I could overcome them one by one.
Stay Positive, and keep on trying when you face any challenges. You will achieve your goal if you don't give up!