Employee Interviews
[English only]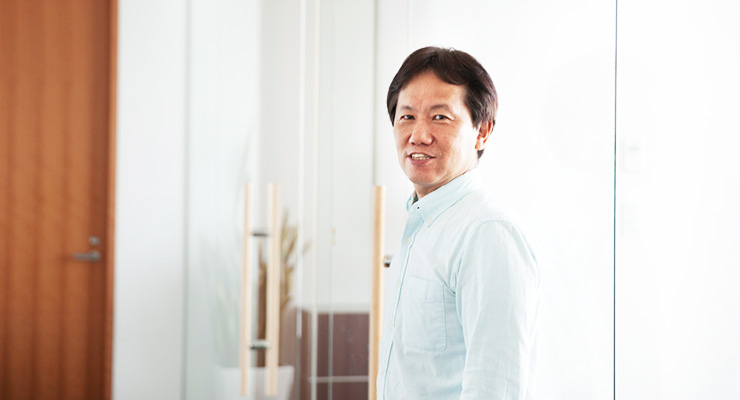 Japan
Ohki
FAST RETAILING
Legal Group Officer
(Current:Fast Retailing Group Officer / Legal・Compliance)
In charge of legal matters at FAST RETAILING (FR), Ohki is always on his toes and always on the go. His job is to nurture a diverse team of legal minds that keeps the company on track and protects against risk. The growing and global scope of challenges keeps him going full speed ahead—just the way he likes it.
The Joy of Work
The part of my job that I derive the most pleasure from is creating and maintaining a top-notch legal team that outshines the legal departments of other global contenders. Every day is fresh and inspiring with my international team. We have team members from ten countries in our seven operational bases worldwide. Legal needs to be diverse and to be on the frontlines, but also really understand our business. On our team, we expose each other to novel perspectives, ideas and approaches, constantly stimulating and learning from each other.
Never a Dull Moment
Being in charge of all legal and compliance issues means that I have a broad purview. There is an unending supply of challenges. My work covers everything from learning the ins and outs of legal systems to hiring local representation where we operate. I negotiate contracts with designers and brand ambassadors worldwide and am also tasked with—among many other things—conducting trademark surveys and acquiring trademarks.
International Work Style
I work Monday and Tuesdays in the Tokyo office. Apart from that I am typically on business trips abroad. When in Japan, I am in the office at 6:30 a.m. Our CEO, Mr. Yanai, is also an early bird. Sometimes he calls me in first thing and we jump right into discussions. I focus on maximizing efficiency as I tackle tasks and try to wrap up work by 5:00 p.m. Wednesday usually finds me in another country. Overseas, I start work around 9:00 a.m., holding discussions with local lawyers, business partners and interviewing prospective new employees. I rarely visit the same place more than once or twice a quarter.
Global Scale, Commensurate Challenges
FR is a global company, and this presents many challenges. We're the only Japanese apparel company that is a major player internationally. As soon as we overcome one challenge, the next is there before us. Legal is essential for this company to keep growing. Our role is to give our company the information and support it needs to facilitate its global growth, to help drive our business and guard against risk. We strive to offer the optimal information regardless of location—this is both my mission and my passion.