Employee Interviews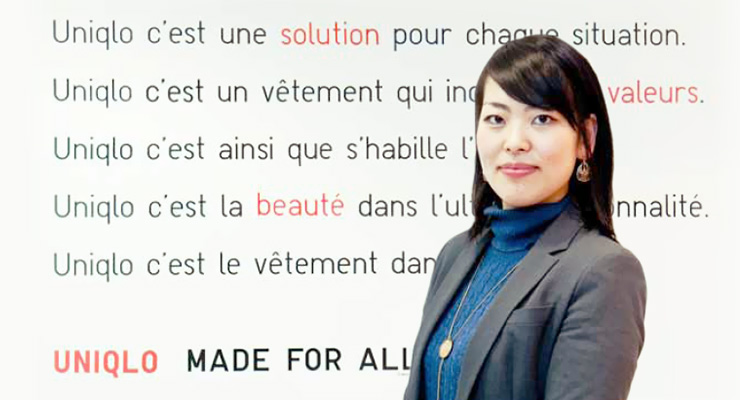 France
Imai
UNIQLO
Store Manager
(Current:France Store Manager)
Imai joined UNIQLO in 2011. A quick study, she acquired the rank of store manager in six months. After working in Osaka and Nara, then training in Tokyo, a mere year and a half into her career at UNIQLO she was bound for France to apply her Store Manager knowledge and French cultural expertise acquired while studying abroad in France.
What led you to join UNIQLO?
When I came back from studying abroad in France I knew that I needed to go back—I swore to myself that one day I would return to France to work. I didn't want to go back as a student. When I started looking for a job, I was focused on companies that offered opportunities to work overseas, ideally in France. I wanted a company that recognized hard work and excellence. One that was genuine. The company that stood out was UNIQLO.
How has your career unfolded?
Six months after starting work on the sales floor I received my store manager credentials and became a Store Manager in Osaka . A year into my career, I was transferred to Nara, in western Japan. Around that time I decided to put in to work overseas. In truth, my English test scores were not as high as they were supposed to be, but I went for it anyway. And I failed. But the individual in charge in Human Resources encouraged me, saying mine was the kind of proactive attitude that was needed and not to give up. That emboldened me.
How did you end up in France?
Soon after I failed to be transferred abroad the FAST RETAILING convention was held in Yokohama. Over 3,000 Store Managers and executives gathered. There was a discussion and a question raised about what our goals were for a decade in the future. My hand shot up along with that of around 100 people. For some reason, I felt like I might be called upon—and I was. I told the moderator, that in 10 years I was aiming to be the CEO of France and offering service the likes of which the country has never seen. He shot back, "Parlez-vous français ?" Without missing a beat, I replied, "Oui." I then exchanged some words with the CEO of Comptoir Des Cotonniers.
With that, I had committed myself to striving to reach the top of the organization in France in 10 years . Later, President Yanai said to the conference that he would like to see the store manager from Nara headed to France as soon as tomorrow. That was a day that changed my life. I thought that it would take at least three years for me to work up to being sent overseas. This is a company that rewards preparation with opportunity and that will push you beyond your abilities. Thanks to that, ultimately, I was able to return to France to work, as I had pledged to myself that I someday would.