Employee Interviews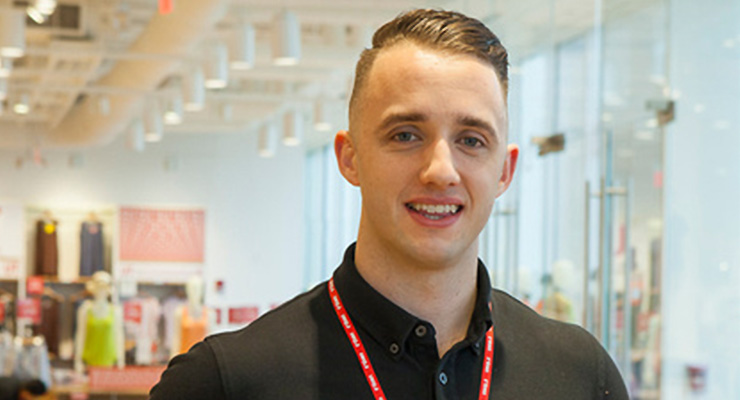 U.S.
Christopher
UNIQLO
Store Manager
(Current:FR Management and Innovation Center)
Can you tell us about your role at FAST RETAILING?
I am the general manager of our UNIQLO, Garden State Parkway Store in Paramus, New Jersey. We recently celebrated our one-year anniversary. We now have over 100 people working on a floor space of 43,000 square feet (13,000 square meters) in one of the biggest shopping malls in the US.
How has working at FAST RETAILING inspired you to grow personally and professionally?
I was successful in retail before joining FAST RETAILING, but being here I have developed an entrepreneurial mindset. I push for what I want to achieve. FAST RETAILING encourages different opinions and taking on new challenges. That type of mindset has inspired me and changed the way I work.
What sets FAST RETAILING apart?
We are daring to dream and we have a strong vision. At UNIQLO we dream big—dream that we can be the world's top apparel company and become a company where everyone wants to work. Good companies have a strong vision so that you can be a part of something larger and do meaningful work. The mission and vision are critical. At the end of the day corporate culture sets a company apart and today you can see our culture setting FAST RETAILING apart.
How does FAST RETAILING's goal to become the world's top retail apparel group inspire new ways of working?
When you think about FAST RETAILING's goal of becoming the number one apparel group and then consider how few people currently work for UNIQLO, one thing is clear: we each have to take the initiative. There is a sense that everything depends on "you." There is teamwork, but also immense responsibility. We're the ones who are going to make it happen.
My management team told me that even my own career plan — rising from store manager to regional manager then to merchandising manager and aspiring to general manager of a global flagship store — sounded too realistic. You have to dare to dream, to skip levels and push yourself further. That changed the way I thought about a lot of things. That brought a lot of urgency for me. Now, I'm thinking of the position I'll be in next year and know that I need to develop people to fill my position.
FAST RETAILING is embarking on a period of unprecedented growth. How does this inspire global careers?
Traveling and working in other parts of the world is very appealing. Since we are globalizing there is a lot of effort put into getting feedback and spreading best practices. That's helping to create a global corporate culture. There is a huge movement and push in that direction. This will impact the company more in the next five years than ever before. Our executives recognize that diversity of thought is essential to global success.
What do you tell someone considering working here?
We are looking for people who want a challenge. It's a high-risk, high return environment. If you are willing to challenge and change yourself as a person and experience bumps along the way, you have a huge chance of being successful. Life is short. Do you want to do something trivial or try to do something huge?