Employee Interviews
IT in the center of UNIQLO's revolution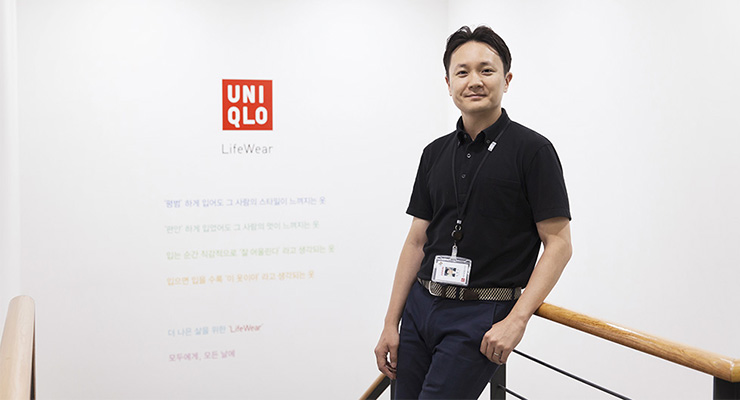 Kim Jung Soo
South Korea
UNIQLO
UNIQLO JAPAN Regional CIO Asia
(UNIQLO KOREA Business System & IT Diretor)
He is working as Asia Regional CIO at UNIQLO's Business Information Systems team. He joined this career in 2014. Currently, he operates and manages IT strategy in Korea, five ASEAN countries, and Australia.
IT in the center of UNIQLO's revolution
Kim Jung Soo joined UNIQLO as a CIO (Chief Information Officer) in 2014. Currently, he is in charge of running IT organizations in seven countries including Korea, five ASEAN countries, and Australia.
"College students may not understand my job easily. I am currently active in 7 countries. We are working on the direction of UNIQLO's digital and IT strategy. We also manage IT strategies that support executives' goals. Instead of working domestically, we communicate with executives from various countries and negotiate and formulate a business support approach tailored to the country. Of course, we also perform basic IT operations. For example, helping our stores operate smoothly every day, as well as keeping our systems running smoothly, from store billing to sales management."
UNIQLO is now preparing for a major change. Kim Jung Soo is convinced that UNIQLO would make a difference in the future. "We are trying to change the existing SPA business model and transform to a Digital Consumer Retail Company, as Yanai-san stated. This means that we are going to drastically change the company's system and the business model." Accordingly, what is required for a CIO nowadays is not simply an experience and knowledge on the IT field, Kim Jung Soo mentioned. CIO will need to know what a drastic change in management strategy means, and to be able to predict two or three stages further in advance.
So, what is a Digital Consumer Retail Company? And what is the big picture UNIQLO is trying to draw? –Kim Jung Soo talked about the direction of UNIQLO.
"Even in Korea, there are strong competitors in the SPA market. This business model is no longer a secret. If you stick with the store-oriented SPA model like you see right now, you will end up with an over-competition of 'who can sell the cheapest'. Our managers noticed that the company could not develop if we continued in this SPA model. As we gathered our strategies, we concluded to go with the Digital Consumer Retail Company. People out there may say, 'UNIQLO is profitable enough', but internally we have already seen the limitations of this model,; therefore, we are in need of preparing the next model."
The reason why Kim Jung Soo is chosen as a UNIQLO CIO is also related to his past career.
"When I look at my career, proportion of business and IT is fifty-fifty. I once left the IT industry in order to get MBA. Next, I experienced M&A and new business development, but came back to IT after all."
As UNIQLO is still in the middle of transforming its business strategy, it was important to have a CIO with both careers in business and IT field.
Build your own stories, not others!
Kim Jung Soo believes that recruiting talent is also one of the important roles. He explained why he joined UNIQLO as the following, "UNIQLO is a great opportunity and challenge for the IT professionals in Korea. There are number of things that you would not notice, just by looking from the outside. You might think there is nothing that you could do for a retail company. However, there is actually a lot of opportunity because the organization itself is growing and changing in a rapid speed. Additionally, it is rare for a company to have IT playing a central role of the transformation. By utilizing information technology, it is possible to dramatically improve the customer's purchasing experience and to provide new value. For example, by analyzing the customer's purchase history and behavior patterns, suggesting various styling, and responding to the rapid change of customer needs. The level of creativity required in IT is becoming ever greater. Specifically, IT covers almost all of the latest IT trends, including RFID, Beacon and other location-based services, AI, Chatbot, and cloud; thus, if you are willing to challenge, the opportunities here are endless."
Kim Jung Soo mentions that the ideal candidate for UNIQLO Business Information System team is very different from the general engineers that we know.
"We do not want to generalize the people in the IT industry, but because of the nature of the business, there is often less interest than IT itself. At this point, what is required of the IT industry is the ability to lead change and be eager to transform more than others. It is important to have a mind that is interested in things happening in this world and full of energy." Also, the requirement of an ideal candidate that Kim Jung Soo wanted to emphasize was to have a global mind set.
"College students often misunderstand. Having global mind set is not only about good English or other language skills. Of course, language is an important aspect. However, someone with a true global mind is a kind of person who is genuinely ready to understand and accept that people and culture are different from country to country. In addition, I had never been abroad before I went to an American company that I have worked for. My English was not good enough that even got lost in the airport and did not know how to check-in the hotel. However, does this mean that I do not have a global mind? No. I accepted the cultural difference and respected all my friends who came from different parts of the world. Throughout true collaborations, I was able to give a great achievement."
If you are preparing to look for jobs right now, you may wonder what to prepare. Kim Jung Soo advised to try to find out for yourself, rather than being in a hurry.
"I want to say that I do not have to worry too much about not doing what all the others are doing. My career will not be a reference at all, but I have never built so-called specs. I did not even have a license other than a driver's license. First of all, I started my company life when I was 21 year-old. While I was attending to a local university, I went to 6 venture companies. There were only few pay periods for five to six years of work. Nevertheless, I never felt miserable for myself. I did not feel like I was contributing enough to get paid, and I even thought, "Why do I get paid for things that I enjoy?" Overall, I want you to be faithful to the preparations for what you really want to do. As many people come up with the same resume, I think the competition seems too fierce. In those situations, people who have their own philosophy and thought pops out from the others. The way I became a leader was in this way. It is difficult to suggest because it is a rare method. If you are looking for a job, you should prepare for employment, but if you are in the second or third year of college, you might want to take a leave from your school and do a part-time job or go on a trip. Those who are trying to pursuit yourself or those who are trying to understand the others while having a strong principle of your own are surely in sight. It is because there's a power in your story behind your experiences.