Employee Interviews
To Become a Marketer Who Understands People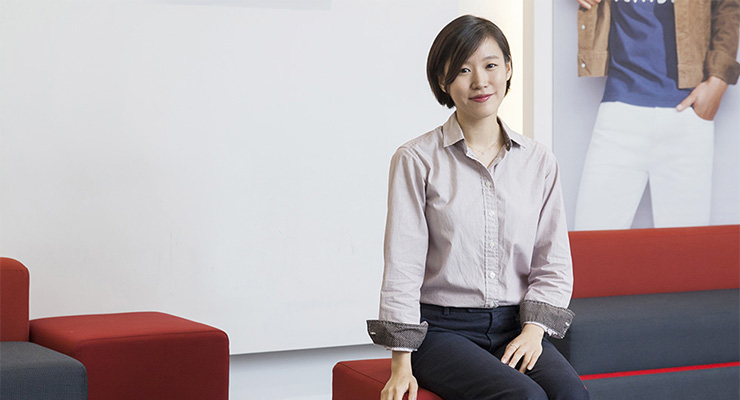 South Korea
Narae Lee
UNIQLO
Marketing Team
Narae Lee majored in management of costume design at university. After joining UNIQLO as a marketer and working through the PR team, she is now in charge of marketing in the innerwear division.
I dream of marketers who understands people
She dreamed of becoming a costume designer when she was a child. During high school, she was a member of the costume designing club. She entered the Department of Business Administration in university and minored in fashion design, so that she could continue to care about clothes. In the eyes of her, who liked clothes, UNIQLO was a charming brand.
"UNIQLO helps us give a good look just by coordinating with basic items. Even if we do not fully coordinate using UNIQLO clothes, we can have a stylish look just by mixing UNIQLO products with something we already have. One of UNIQLO's biggest strength is that they come with various color and size." Six years and a half passed since she has started working at UNIQLO.
Now she is in charge of product marketing for new material innerwear 'AIRism' and functional underwear 'HEATTECH.' So, what is she doing as a marketer for the innerwear division, where many of the job candidates are longing for?
"I am looking from the long-term perspective for the items where to position in the Korean market. In the short-run, we will be performing this season's mission. In the beginning, we conduct consumer research and analyze the situation to look for challenges and opportunities we have. And when the message and branding challenges are determined for this season, the marketing plan is finally executed. We conduct numbers of promotion from digital activities including TV commercials, to offline events. Of course, we do not work alone. We will not only be working with directors and teammates, but also collaborating with advertising agencies."
The "HEATTECH Window Campaign" was held last year to celebrate the 10th anniversary for HEATTECH in Korea. It was a campaign that distributes UNIQLO's brand logo on the air cap attached to the window for insulation and distributed to customers. She also participated in this campaign and learned a lot from it.
"People in Korea covers window with a bubble wrap (Air Cap) during the cold winter to have the room nice and warm. The HEATTECH Window campaign was an idea utilizing this culture. By distributing the air cap with HEATECH's logo on it, it also effectively conveyed the function of HEATTECH, which can make you warm enough to save on your heating costs. In addition, HEATTECH attracted myriad of people by creating a parody with Kim bu-seon of the original HEATTECH commercial that Lee Na-young was starring. Eventually, this film became viral and also won awards at the 2017 Cannes Lions Advertising Awards. I learned a lot in this process of realizing a good idea. I was really excited about the fact that a lot of people were being involved in this campaign."
Two dimensions of a marketer: Insight and communication
The first thing that comes to mind when we hear marketing is 'Creative' and 'Communication.' These skills are indispensable for a marketer, and creativity and communication skills are often seen as areas of talent. Then how did Narae build up and strengthen this capability?
"Being creative is really important. However, strategy is the top priority before creativity. We have to start off by building a strategy to decide what kind of message to tell to which target. After we have decided on the big picture of our plan, we will share it with the creative agency. I think what decides a marketer to be creative is whether he or she has a sense of judging good things. To be honest, I feel that I am still lacking on that. In order to enhance my skill, I get lots of help from the directors and I also try to learn from oversea cases and good content myself. When I get stuck, I go to book stores to get crucial knowledge and idea, or to exhibitions. I also like to spend my time watching pop culture, such as drama, entertainment and novels. The last book I read was "To Pixar and Beyond" It's a story of a lawyer, Levy, who has gone well, works as a CFO (Chief Financial Officer) of Pixar. It is profoundly interesting to see how Levy and Steve Jobs work together to solve an substantial management issues. I recommend this book."
Even though marketers seem to be a group of 'master of communication,' communication is also difficult for them.
"The marketing strategy changes every year even for the exactly same product. It is a dynamic task which requires new challenges. It is very challenging but I feel fun at the same time. Especially, the process of planning and making internal decisions was a series of difficulties. You will rarely work on your own no matter how small the project is. It is crucial to collaborate with various departments such as sales team, product planning team, and inventory control team. This also includes interacting with outside agencies and business partners. When I just started working, I did not have enough communication skills. I used to give one sided communication rather than a mutual one, like having the partner pace up with my deadline or asking for work without giving an adequate background explanation. Now, I am trying to learn and understand more about the people I am working with and to work as a team. I believe that my communication skills have improved."
She claims that the most important attitude as a marketer is to think from the perspective of others.
Narae Lee gave a warm speech for who are interested of applying for UNIQLO.
"You may be frustrated by the difficulty of work and incompetence of yourself at the beginning. Everyone believes they can accomplish something big right after they join the company. I, myself, also thought of the same, especially because I really liked UNIQLO and my motivation proceeded. However, it is important to realize that there is not much you can do in the beginning. Nevertheless, you should understand that you will be able to accumulate experience and have fun. Do not give up challenging, and you will find yourself improving step by step.