Employee Interviews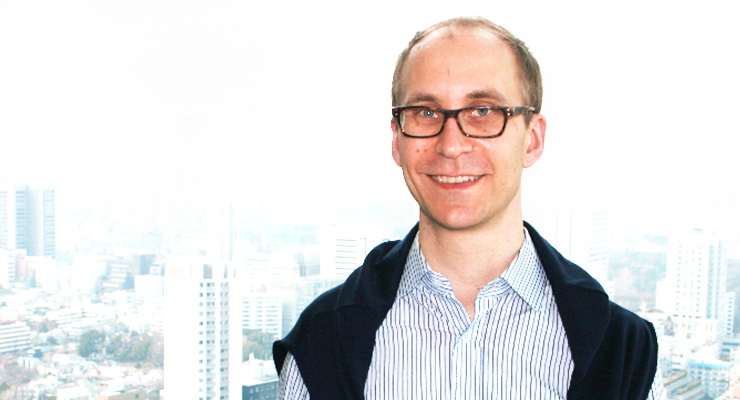 Japan
Oskari
FAST RETAILING
HR
(Current:FR Management and Innovation Center)
Oskari joined FAST RETAILING in 2012 looking for a more dynamic business environment in a line of products that he enjoyed.
What led you to you join FAST RETAILING?
I joined FAST RETAILING after eight years of working in the tire business. While I enjoyed my work, I was craving a more high-paced business environment. I also wanted to work with products that I could better relate to personally.
When I looked into FAST RETAILING as a potential employer, I realized that the company was in a unique place and on a journey of growth. It was still functioning like a Japanese company with international operations but on the brink of a transformation to become a truly global company. I wanted to be part of that journey and to help to drive that the globalization from inside.
FAST RETAILING is aiming to become the world's number one apparel retailer by 2020. What challenges does this entail when seen from a human resources perspective?
We are expanding our operations globally and the employee population at our global headquarters needs to reflect that. We want to have at least one-third of the positions at headquarters held by non-Japanese people. We need to hire and internally assign hundreds of high-potential, non-Japanese employees to accelerate our globalization.
The people that we bring to Tokyo need to be globally talented, not just linguistically speaking but in particular in their mindset. This means being able to conceive and implement global solutions that can be localized. This means being proactive and seeking new solutions while also accepting that everything is not already in place.
Please explain your current role.
Increasing the number of non-Japanese in at our headquarters comes with challenges. These can include language barriers, communication errors, ambiguity in job descriptions and differing expectations. The role of our integration team is to help the organization to navigate these challenges that are part of our drive to globalize.
In concrete terms, our team supports non-Japanese employees and their departments during the first 90 days of integration. Focus points seen as crucial for a smooth start are a very clear job description and personalized training plan. We combine training and workshops, department on-the-job-training, language education, networking support, career planning and personalized care as a powerful package to help people become successful in their new positions as quickly as possible.
What kind of results have you seen so far?
Last year we more than tripled the number of non-Japanese at Tokyo headquarters. We were able to ensure a smooth start to their careers with us. Of the non-Japanese that we have supported, 75% have reported satisfaction with their work.
Finally, what would you characterize as the main benefits of working at FAST RETAILING?
I personally enjoy the excitement that comes with being part of the incredibly rapid growth that we are enjoying. I read daily about our new store openings in various countries, about our collaboration with superstars and top athletes, and about the new products that we are launching. There is an energy at FAST RETAILING that is born of the growth, globalization and dynamism of being an extremely successful company. On a more concrete level, a major benefit is that possibilities keep expanding on every level as the company grows.