Employee Interviews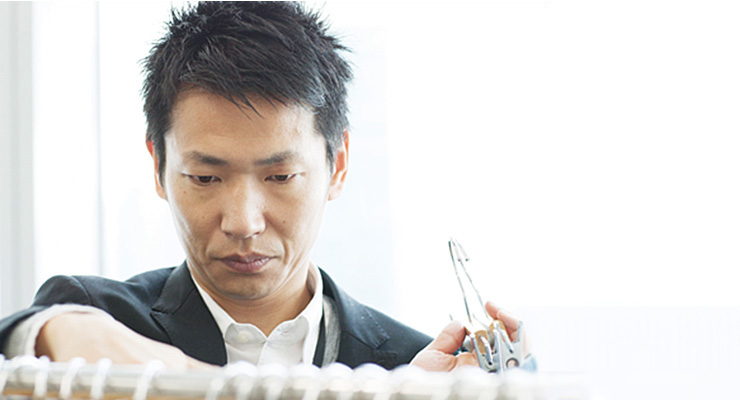 Japan
Ito
UNIQLO
Men's and Kid's Merchandising Director 
(Current:Kid's Merchandising Director)
Ito joined UNIQLO in 1997, bowled over by the promising work environment and convinced that it might be a place where he could do something outstanding. He has shined on the sales floor as a store manager, a supervisor and a block leader before transitioning to Merchandising at headquarters, where he developed UNIQLO's warm easy pants.
Aiming for Remarkable
I was drawn to FAST RETAILING by what I sensed as the possibility for doing something remarkable. I went to a company recruiting event and there was a poster there that caught my eye. It said: "Entirely performance-based work environment." I knew this was the company for me. I didn't graduate from a top-notch university and I didn't have any spectacular literary ability. But I felt the possibility that if I challenged myself and worked hard, then with this company I might be able to do something remarkable. Initially the work was hard, but the training was good and my superiors looked after me. Being a completely performance-based workplace means that the efforts of each individual are that much more important and adds an additional dimension of responsibility.
Variety of Roles
After a stint as a store manager I became a supervisor overseeing several stores. I made more proposals to headquarters about ways that we could boost sales from the selling method to fashion styling ideas. I was overseeing northeastern Japan and proposed apparel with heat-retaining features, like HEATTECH and down clothing. After I was promoted to block leader, I gained a greater appreciation for the joys of training those in your charge and learned more about achieving major success across a broader business scope.
Starting Over
Nine years in I was transferred to headquarters to work in Merchandising. It surprised me, but I took it as an opportunity to grow. I figured that I was so proactive about proposing products that they had certain expectations for me. Once there, I had to start over. There was so much that I didn't know. I spent each day gleaning all I could from my superiors, colleagues, assistants and people in Production, including designers and pattern makers. I essentially tackled the job from scratch.
Immense Scale, Immense Responsibility
The merchandising work at UNIQLO may be the only job of its kind anywhere. It takes place on an immense scale and there is immense responsibility. You are responsible for planning the clothing, production, inventory, shipping, marketing, and seeing merchandise sales through to the end. And the volume is of a scale that other companies cannot even imagine. I am in charge of men's and children's wear in Japan, which operates on a scale of hundreds of billions of yen each year. That comes with pressure. The ultimate test when completing a product is to try to assess it through the eyes of our toughest customer. Working on the frontlines in this way has been incredibly educational and is one means of determining what the world needs.
Ongoing Challenge
In my work, I am constantly considering clothes and their meaning. They can keep people warm and make them comfortable. By extension, if you make clothing right, then you can contribute to people's lives worldwide. I want to continue to churn out clothing that changes lives. And I hope to one day apply what I have learned about successful merchandising on a grander scale, in a role such as a managing executive or perhaps the president of a group company.