Employee Interviews
The company is committed to fostering talent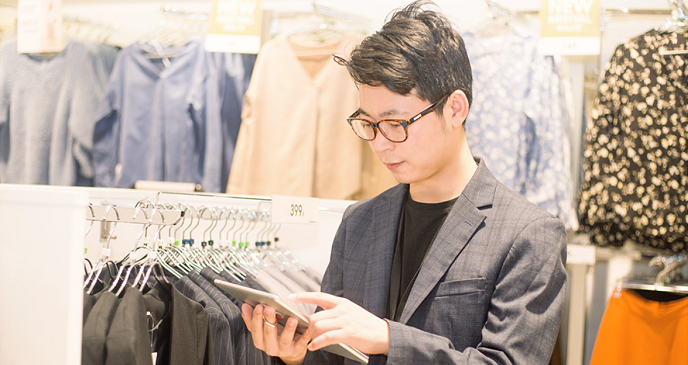 GU
Area Manager, Shanghai Third District
Kong joined GU China in 2014 as one of its first batch GMCs. He was promoted as deputy store manager in 2015, and became store manager the following year. In February 2018, Kong was assigned to Suzhou to launch GU's flagship store in this area. He is now the manager for the third district of Shanghai and Suzhou.
The company is committed to fostering talent
I still remember how impressed I was by the interviewer from GU at the campus recruitment –– his enthusiasm and confidence made me see that the company had a bright future. At the time I did not have a clear idea of the kind of job I wanted, but in the end I decided on GU. I suppose it was meant to be all along. On my first days at the company, I quickly realized I had set my expectations too high. As a trainee, I was starting from ground-level work at the store, which was not entirely what I had expected. But soon enough, I began to see the value and importance of the training experience.

GU's growth is reflected in the details, from the improvement of product quality, revamps of store decors, to staff training and talent development. We hope to empower every colleague to grow and achieve their full potential.

GU is an inclusive company that prioritizes the well-being of its employees. As long as it is not to the detriment of customers, the company is always willing to support any initiative that helps foster positive growth among the staff. Trials and errors, while they may be discouraged at many organizations, are embraced at GU as opportunities for growth. Even when a desired outcome was not achieved, we would still have a post-mortem together and review the issues or shortcomings of the project, and learned our lessons from the process.
The strength of the teamwork and the progress of the individual contribute to each other
By nature, I am not someone good at seeking help from others, often preferring to get things done on my own. But when it comes to work, the support and synergy of a team is crucial to getting a job done effectively, especially with store operations. This is where communication and understanding between the store manager and staff become paramount.

As a store manager, you need to first let the staff see the conviction you have about your work. That will in turn encourage them and spur their productivity. Next, you should also lead by example. The staff must see that you are not just talking the talk, but are actually serious about translating it into action. Another important element is patience. You need to continue improving on your weaknesses, and communicate and work closely with your team to build trust with one another, to ultimately achieve your common goals.
From a change of mindset to personal breakthroughs
In the first few years of my career, I was progressing at a slower pace than my peers. But all of that changed last summer when I failed to secure a promotion. The experience led me to reflect on my job, fully take stock of my career path, and think long and hard at what I needed to do to improve my performance.

I realized that up until then, I had only been doing the job as it was normally expected of me, and simply focused on running the store on a day-to-day basis. I did not take full ownership of the job, so it should come as no surprise that I was not able to progress and stand out among my peers. I felt that this should not carry on any longer, and decided to make a change. I began positioning myself as the true owner of the store, figuring out what strategies I should employ to improve customer satisfaction and empower my staff. After such a change of perspective, I started to have clearer goals and a renewed conviction about my work.
Setting ambitions high, and working relentlessly toward them
My next goals are to become regional manager within two and a half years and Head of China Operations within eight years.

My first step towards achieving these goals will be to improve my business management skills and to deliver on all the sales targets for my team. It is important to see myself as a partner in the company and not just a senior employee; and to include myself in and do my best in every aspect of the job, whether it is staff training, recruitment or business operations.

I will also work on improving my knowledge on fashion, so that I can have deeper insights into various areas of the business, from brand development to store operation. Finally, I believe the role of a leader is to be a mentor to your team –– to teach and guide them, and resolve any doubts or confusion they may have. You are responsible for setting goals for your staff, and helping them learn, improve and grow together.