Employee Interviews
Don't be a cog in the wheel––be the master of your own dreams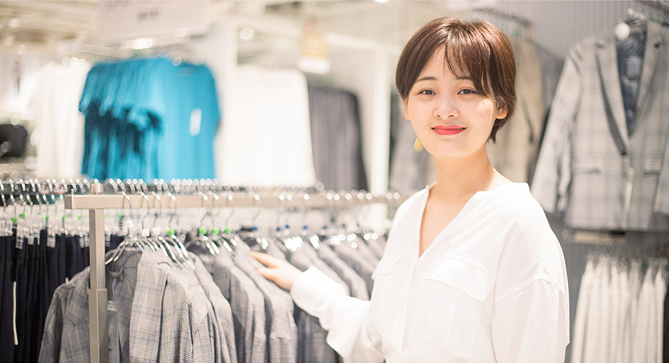 GU
Education SV, Department of Store Operations
Tao joined GU as one of its first GMCs in 2014.
She became deputy store manager after six months, and was promoted after one year as manager of the Jinhongqiao store.
She was the first in her batch to be appointed store manager and SV. Tao is now Head of Personnel Education at the Department of Store Operations.
Don't be a cog in the wheel––be the master of your own dreams
I first learned about GU when I was an exchange student in Japan. At the time, GU was still a new brand in the market. Compared to UNIQLO, their products were priced more affordably and featured more fashionable designs, which appealed to younger consumers. Both GU and UNIQLO are brands owned by Fast Retailing. Their ethos is based wholly on meritocracy: as long as you dare to dream and challenge the status quo and are able to deliver results, you will be recognized for your efforts.

I felt that it would be more rewarding to join a start-up that was full of promise and potential, and grow together with colleagues to achieve our goals, instead of becoming a small cog in the wheel of a larger and more established company. And one day I would be able to say this with pride: we built this company together!
Success comes from passion, confidence is built over time
As someone who enjoys a vibrant lifestyle, I love interacting with others and taking on challenges. Working in the retail industry brings me a great sense of fulfillment and happiness on a daily basis. Through my job, I get to meet different people and encounter new challenges every day.

I am passionate about my job. Throughout my career, I have not done anything different from what my peers were doing, but I made sure to give my best to every single task. It gave me immense joy and pride whenever, for example, something I did contributed to increased sales at my store, or someone from my staff had started from ground zero and rose up the ranks to become a store manager. That added so much meaning to the work I have done at GU.
Challenges as opportunities for improvement and growth
My background is in operations. I started as a trainee at a store, and was later promoted as store manager and then regional manager, all the way to my current appointment as Head of Personnel Education at GU China. It was a brand-new role that had never existed in the history of GU, and was created specifically in response to the company's rapid business growth. My mission is to recruit the best talent for the company and look after the professional development of every colleague.

Previously, my job as a store manager was simply to run the store effectively; now my responsibilities are more closely connected to the future development of the company, which encompass everything having to do with "people"––from human resources to education––with no definite boundaries. Since this is a completely new role, no one will be telling me what to do. Therefore my job requires me to constantly think about what the company's goals should be, and how I should go about attaining them. I am basically in the driver's seat, given all the freedom as well as responsibility to decide what I want to do.

Beyond that, it is also important for me to consult and work together with colleagues from different divisions in my department. In my current role, I cannot approach work in the same way I did when managing a store, or limit myself to my current area of expertise. I need to communicate frequently with my superiors, and think about issues from broader and more diverse perspectives.
We are seeking leaders with a passion, to join us as partners on our journey.
My advice to all prospective candidates is that, you must first have a clear idea of where your interest lies, and think about what kind of a person you want to be in the future. GU is a place where you can be ambitious, and offers endless possibilities for your professional growth. At GU, everyone is given the opportunity to take on challenges and to fail. There is room enough for everyone to achieve their full potential.

As GU continues to expand its footprint worldwide, my dream is to join the operations team for a new country, and be involved in laying the groundwork and launching the business in the new market, eventually becoming the CEO for its national operations. It is my hope to introduce GU and bring the sense of freedom the brand stands for to more people around the world. I am not simply following the crowd––these are things that I genuinely hope to achieve. Moreover, I now believe in the GU brand more strongly than ever, through my own growth and after witnessing the transformation in my staff.

Here are a few words I would like to share with those aspiring to become a star manager with GU.
We are looking for individuals with a true passion for leading and inspiring people. We are seeking the brightest talent both locally and globally.
We only live once, so find out what your true calling is, and set out to achieve it. There are many ways to live up to your full potential, and your career choice is one of the most important decisions you can make in this regard.
Should you decide on GU as a new chapter in your career, we look forward to welcoming you onboard and working with you to take a world-leading fashion brand to even greater heights. With GU, we will grow together and become top leaders of the future!