Employee Interviews
The reason that makes me go to work energetic and with positive attitude is the opportunity of learning new things every single day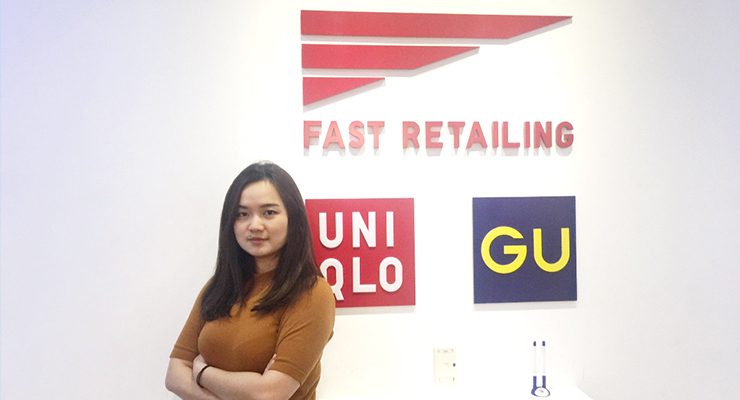 UNIQLO
Production
Why did you decide to join the FAST RETAILING Group?
I am a fashion lover and addicted to Japan culture. When I saw the company recruitment of UNIQLO at my university, I knew that this company was for me. I was impressed by the philosophy of the company which is to become the NO.1 retailing company through changing clothes, changing conventional wisdom, and to change the world. However, at that time, I was still in the 3rd year of university, so I prepared the job by taking an internship in a garment factory which is the supplier for UNIQLO, as a foundation to understand more about the company.

UNIQLO challenged me with so many new things to learn, and the pressure was high. Of course there was up and downs during 3 years of working here. However, with the continuous support of the seniors and colleagues, I never felt that I was left behind. UNIQLO gives me great opportunities to improve my interpersonal skills, make quick decisions and work in teams with suppliers. Learn from them, and learn from every failure and mistake.
How were you growing personally and professionally at FAST RETAILING?
I joined the company 3 years ago as a UNIQLO Manager Candidate (UMC) which is to ensure the best quality garment is delivered in the right time to our valuable customers, and now I am on the way to become a production merchandiser. The best thing here is that UNIQLO always gives employees the chance of taking challenges in new tasks and new knowledge.

What I value the most in my work are the people I work with from workers in workshop to the top managers of the factory. It is also a challenge for me. At the end of day, I always think about whom I had conversation with, whether they fully understood or not and whether I had appropriate business etiquette. Gradually, I learned how to build relationships and communication with all kinds of people.

Working professionally and aiming high is my philosophy in the company.
What do you want to achieve in the future?
In the next 5 years, I want to gain knowledge and experiences about merchandising, develop leadership skills and to become merchandising leader of Cut and Sew department, in order to contribute and support our growing business.
What do you enjoy most about your job?
The reason that makes me go to work energetic and with positive attitude is the opportunity of learning new things every single day. To challenge the problems that we call "Ijouchi", abnormal value, training courses and sharing experience with seniors is also my motivation. Everyone here is talented, open and willing to share everything they know.