Employee Interviews
For those who always dream BIG, want to achieve BIG and rewarded BIG, there is no better place than FAST RETAILING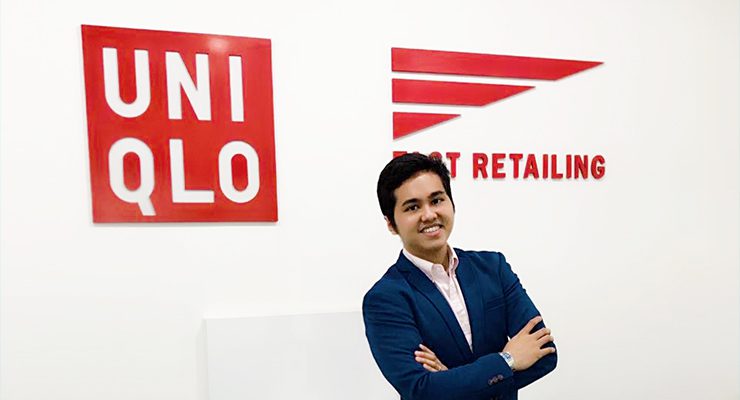 UNIQLO
Production
In 2012, right after graduating from University of Indonesia, one of the top universities in Indonesia, he joined UNIQLO Indonesia as a Production UMC and became the first generation of local employee in UNIQLO Indonesia office. After 2 and a half years, he got the chance to work in Shanghai Production Head Office for 2 years. From January 2017, he came back to UNIQLO Indonesia to work as a Production Supervisor. Now, his mission is to build Indonesia Production Office and to develop as many young potential member as possible.
What led you to choose to work at FAST RETAILING?
UNIQLO is actually my first job ever. As a fan of Japanese culture, I have known UNIQLO even before the store entered the Indonesia market. While in Japanese Company is stereotyped as very strict with lots of overtime work in my country, I know that FAST RETAILING is not like what they have imagined; thanks to our charismatic CEO, Tadashi Yanai. Despite the fact that he is already being Japan's richest man for several consecutive years, he still dreams big to make FAST RETAILING No.1 worldwide by achieving 5 trillion yen by 2020. To work in a full-speed growing company led by a daring CEO, tackling global problem to achieve No.1 in the world has always been my dream as well. Thus, this is what drives me work at FAST RETAILING.
Tell us a bit about your career at UNIQLO.
My graduation year, 2012, also marked as the first year of UNIQLO Indonesia Production Office, which made me its first local members. After learning the fundamentals from production planning to garment delivery, I was chosen to be in the independent factory, which in charge for a large Korean based Cut & Sewn factory. Shortly after, I was transferred to Shanghai Headquarter and was expected to contribute for globalization in overseas office. There I studied the global standard to bring back and to apply it in the Indonesia office working system. After two years of insightful work-learn period in Shanghai Head Office, I returned to Indonesia Office. I am currently working as a supervisor for several factories, while optimizing new working system and new member training. Aligned with the name, FAST RETAILING, my journey in this company has been a fast track roller-coaster mixed of insightful learning, work-life balance making, hardship enduring, achievement earning, and professional networking. This is the perfect company for young generation who is eager to challenge and ready to take a leap for a big achievement.
What would you characterize as the major strengths of FAST RETAILING?
What has been and will always be the biggest strength of FAST RETAILING is its unwavering emphasis on customer and society. As a retailer, we always pay attention to every detail starting from garment, logistic, visual merchandising, to store experience in order to ensure customer satisfaction. As a Brand, we are beyond regular retailer which only sells garment, but we also sell ideology, philosophy, and happiness. Last but not least, as a company, we are proud to say that we are always giving back to the society, whether in the form of sustainable environment around factories, sustainable fabric production, or CSR activities around the world.
How does FAST RETAILING encourage personal and professional growth?
After working here for 5 years, FAST RETAILING is a workplace that drives to break through the impossible; therefore, encouraging its employees to keep challenging and break their own boundaries, even on a daily basis. As all its employees are recruited through strict process, only the best of people work here, therefore enforcing a tight-but-healthy competition amongst employees. Aside from personal satisfaction of achievement, FAST RETAILING also offers a lot of rewards for star-achievers, whether in form of incentives or career leap chance.
What do you do when you aren't working?
At FAST RETAILING, employees are obliged to work very efficiently during work time, ultimately to minimize overtime working, and enable all employees to spend leisure time better. I usually spend my off-work time reading books in a relaxing environment, keeping fit in the gym and swimming, or building Plastic Model Kit (Gundam), which is my hobby. Travelling is also one of my options when I take several day offs at once.
Do you have any words for prospective applicants or aspiring UNIQLO employees?
As I have expressed earlier, being part of a full-speed growing company led by charismatic and daring leader, really encourages its employee to be a better person, both professionally and personally. This company is the perfect place for young generation who need continuous active career challenge and growth to keep surviving. Nevertheless, it is also a perfect place for experienced professionals who wish for a global contribution. For those who always dream BIG, want to achieve BIG and rewarded BIG, there is no better place than FAST RETAILING.