Employee Interviews
Now that the world is connected, being able to deal with this environment in a better way will be the key to achieve success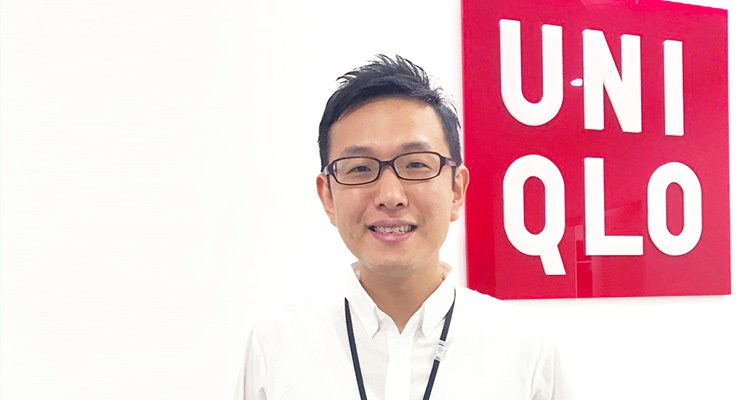 UNIQLO
Production
LU (Jason) is working since 2006 after graduation. He had worked in Shanghai and Osaka for six and a half years as a sales leader in a textile company. After that, he joined one of the leading ski wear company in Japan, mainly to arrange the Chinese retail business and production. In 2012, he started career with UNIQLO in Shanghai as a Production Merchandiser. From 2016, he opened and was transferred to India office as the first person in charge in UNIQLO. He mainly to focuses on expending the production and operating market research for FAST RETAILING and UNIQLO in India
Please tell us about what you do.
I am working in India for UQ production. We have started Men's T-shirt, UT, and Women's Embroidery blouse with the strongest suppliers in India during the past two and half years. We are directly communicating with GHQ for Fabric, design development and order planning. As a team, we work together with Research & Development, Merchandising, Logistic, Financial, Sustainability, and Sales Divisions. We do market research in local areas and share it to GHQ concerned Departments for people to analyze.
What are some of the more memorable projects or noteworthy aspects of your work?
I joined Future global leader session in 2015 as the first Wave in FAST RETAILING. In one of the sessions, I presented about opening up UQ in India to CEO Tadashi Yanai. He was happy about my presentation and approved the project that I proposed. That is the reason why I am the first person in FAST RETAILING who was officially transferred to India to start the business.

In the production field, shipping quantities and amounts for 2016 increased 8 times as much from the previous year. We are going forward and targeting a bigger increase every year.
What stands out for you about the work environment?
I am lucky that I joined UNIQLO because I feel happy to do something what I am curious about .Even though working in UNIQLO is a very hard job and India now has a tough task, since everybody is working as a team, we are always able to overcome challenges and unexpected difficulties. So I believe in my colleagues and with the management's support, nothing is impossible as long as we work continuously and hard as a team.
What would you characterize as the strengths of FAST RETAILING?
This is a global company with different cultures from all over the world. "Everybody should be the owner of the company" is one of the best concept of this company. Providing huge platform for employees and customers to work, to shop, and to enjoy their life. Very good market reputation because of the high quality of products, on time delivery and contributions for the society. Fair working environment is provided to employee so that people can see the future in this company: keeping motivation and passion. As a SPA and Digital consumer retail company, we have variety of choice in the company for personal growth and career plan.
What do you do to unwind and to balance your work with the demands of your life?
Basically, I always prefer to go to work earlier and finish my job earlier. In this way, I can spend more time on studying and staying with my family. Now I am transferred to India alone, so I am trying to make new friends in new countries. This helped me to adapt into new environments quickly and to learn lots of things from different people from other countries, industry and culture. Of course, I go back to my home country at least once every two months to meet my family and relatives. I think this is kind for global career employees who have to bear the difficulties, because it gives bigger opportunities to achieve big goals in their career path. I always believe that real winner is someone who can make good balance of work and life. Now that the world is connected, being able to deal with this environment in a better way will be the key to achieve success.