Employee Interviews
The future belongs to those who believe in the beauty of their dreams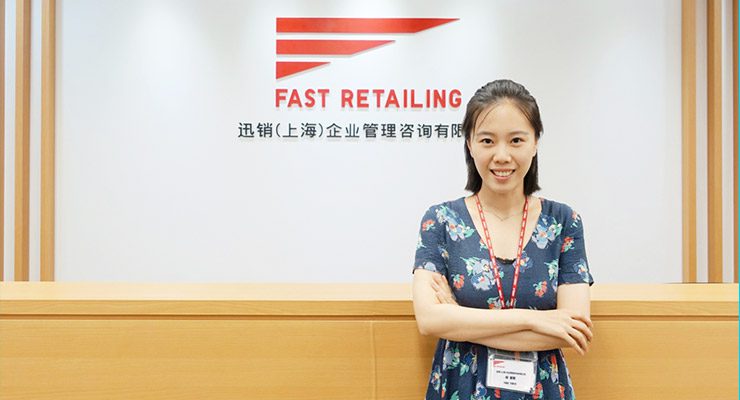 UNIQLO
Production
What led you to choose to work at FAST RETAILING?
I joined UNIQLO in 2011 right after my graduation as a UMC (UNIQLO Manager Candidate). I majored in Fashion Engineering and minored in Japanese in my college. Thus, when I started looking for a job, I considered UNIQLO as a perfect match with what I have learnt. Later during the recruitment, the more I sought, the more I agreed on UNIQLO's value, especially on its ultimate pursuing of customer satisfaction and its sustaining contribution to human society. I think I could not find a second company which matches me like this.
Tell us a bit about your career at UNIQLO.
I started my first step from UNIQLO Cut & Sew Production Dept. There I had a one-to-one mentor coaching me about every aspect everyday: Business manner, working process etc. I learned many management skills and established my own working style during that period.

One year later, I was assigned to Group Production Team, which is responsible for the quality and delivery management of the other Fast Retailing brands: Comptoir des Cotonniers and Princesse tam.tam. Actually it was a newly established team, and I was so excited that I had a chance to apply what I've learned freshly. After 1 more year, I was promoted to Production Supervisor job and I have been working until today. Apart from the daily management work, I also started to be in charge of the new UMCs training. The most fantastic thing I found in UNIQLO is that there are always so many interesting fields waiting for you to explore.
What would you characterize as the major strengths of FAST RETAILING?
I think it should be the spirit of preciseness. FAST RETAILING not only requires the high quality standard for its products, but also great preciseness for its work. Everyone working at FAST RETAILING is not just aiming to complete their assigned task; instead, they think about every aspect and every little detail on how to make things better and provide as much as they can. I was deeply moved and motivated by this atmosphere, which made me try to improve myself day by day. You can also feel the preciseness from our store when you visit UNIQLO. I think this is one of the FAST RETAILING DNA.
How does FAST RETAILING encourage personal and professional growth?
FAST RETAILING is a company that allows you to think, to imagine, and to pursue your own dreams. During my work here, I always feel that the company values the dream of its employees and gives them the chance to realize it. You will be called to think about your 3 years, 5 years, 10 years target once you join the company. Additionally, you will have the chance to review it with your manager annually and make sure your target is still closely related with your current job. On the other hand, it is not only a "dream". FAST RETAILING urges you to be well prepared to develop yourself in every possible way. Chance favors only the prepared mind.
What do you do when you aren't working?
During long vacations, I go travelling with my family. Traveling is the quickest way to understand the different cultures of different nations and this is what makes me more "Global". It is also a good way of thorough relaxing. In the weekends, I enjoy tidying up my house with the music on and cleaning up everything to embrace another brand new week.
Do you have any words for prospective applicants or aspiring UNIQLO employees?
The future belongs to those who believe in the beauty of their dreams.