Employee Interviews
In Fast Retailing we believe that happy employee will make customers happy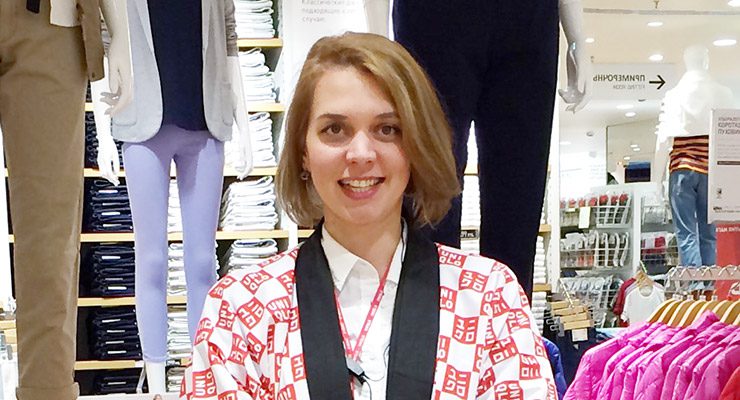 UNIQLO
FRMIC Manager
What led you to join Uniqlo?
I knew Uniqlo several years before joining the company when I was an exchange student in Tokyo for one year. Then, in my last university year in Moscow, Uniqlo opened its first store in Russia. I was happy that this Japanese company which I loved being a student came to Russia, and though initially I planned to move abroad, I decided to stay in Moscow and join Uniqlo. I was fascinated with the vision of Mr. Yanai on becoming number one apparel retail company in the world. From one hand, the idea of participating in building Uniqlo business in Russia almost from the beginning and changing people's lives was big and great. From the other hand, it opened huge career opportunities for myself – and everything would depend only on my own performance.
How has working at Fast Retailing helped you to grow personally and professionally?
Working as a store manager first, and as an area manager after that taught me that goals should be big and everything is possible. You should think about things not from the perspective that maybe it would not be possible, but start thinking from the point of How you should proceed, What you and your team should do to achieve your goals. It also taught me that details are important – and even very small things matter and can change everything. Finally, as my experience of working in Uniqlo was mainly about working with people of various backgrounds and cultures, I could master my skills of working within different teams and achieving results through the diversity in teamwork.
How have you seen Fast Retailing change the world through clothing?
Speaking about Russian market, Uniqlo is influencing people's lives a lot through its clothes and stores. We are bringing clothing of great quality and reasonable prices to the Russian apparel market which is not as developed and abundant as some other markets, and our customers are really happy to be able to wear Uniqlo clothes. More than that, we are educating people in Russia with our functional products and making their lives better. When we just started selling Heattech in Russia, everybody was sure that as it is so cold here, Heattech would be a big hit. But it turned out that sales were poor, because traditionally Russian people consider only natural fabric being suitable for Innerwear, so at first our customers didn't want to try synthetic fabric. Then year-by-year sales of Heattech are getting stronger, customers get to know and love this product and start to come to Uniqlo intentionally to buy Heattech. Of course, our CSR projects are also making a big difference. For example, this year we could collect at our stores 6000 pcs of clothes as part of Global Recycle project. We donated these clothes to people in need and are continuing collecting more.
How is Fast Retailing positively affecting communities and individuals around the globe?
Apart from the main mission of Fast Retailing, which inspires employees throughout the globe to work for making the world a better place and changing our customers' lives in a good way through clothing, I want to mention that Fast Retailing is a company, which is growing together with its employees. In Fast Retailing professional and personal growth of the employees is really important, Company provides many chances to grow and only your own performance does matter. In Fast Retailing we believe that happy employee will make customers happy – and this is one more aspect how Fast Retailing is positively influencing thousands of people around the globe.