Employee Interviews
Uniqlo CSR activity was one of the reason I wanted to join the company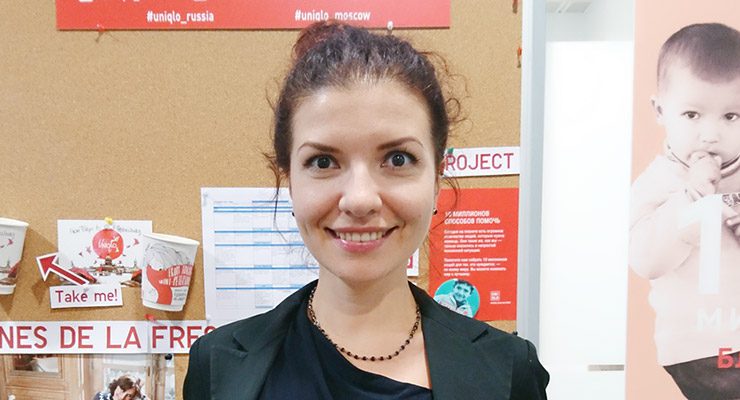 UNIQLO
Merchandising Planning Manager
What led you to join UNIQLO?
When Uniqlo announced entering Russian market, I was working for local apparel brand and was very excited to try myself in such well known global company. I was sure I could learn a lot about how to lead international business, how to make collection for different countries. Several years past, and I am still learning.
How has working at FAST RETAILING helped you to grow personally and professionally?
I was growing together with Uniqlo RUSSIA business. Starting with one store I learnt how to manage Inventory control and merchandising planning for many stores in different cities. At the very beginning RUS team was very small and I learnt to manage several projects just by myself. And now, as team is growing, I learn how to delegate my tasks to colleagues.
How have you seen FAST RETAILING change the world through clothing?
Our company was the first one offering so high quality clothes at reasonable prices in Russia. People realized that even if you are not millionaire you still can lead high quality life. Now I can see Uniqlo clothes on so many different people – Russian trend-setters and celebrities mixing it with lux brands, Russian office workers and students enjoying clean design in bright colors, Russian house-keepers and kids wearing warm comfortable and beautiful clothes every day, almost every Moscow citizen wearing Uniqlo ULD in Russian unpredictable weather.
How is FAST RETAILING positively affecting communities and individuals around the globe?
Uniqlo CSR activity was one of the reason I wanted to join the company. Several years ago it was not very common practice. And now I am very happy that Uniqlo RUS widely expands CRS activity, not only following global projects but also adjusting it to our local needs. I am especially touched with the project – Help young mothers. We give lectures to the girls who became mothers at a very young age – below 18, explain how to get a job, how to live in society. We also give similar lectures to kids from orphanage, and recently we hired 1 person from orphanage to one of Moscow stores.

All this proves Uniqlo is not about making money, it's about making people happy. And this inspires not only me, but many people to work even harder for our business success.