Employee Interviews
How much more rewarding it is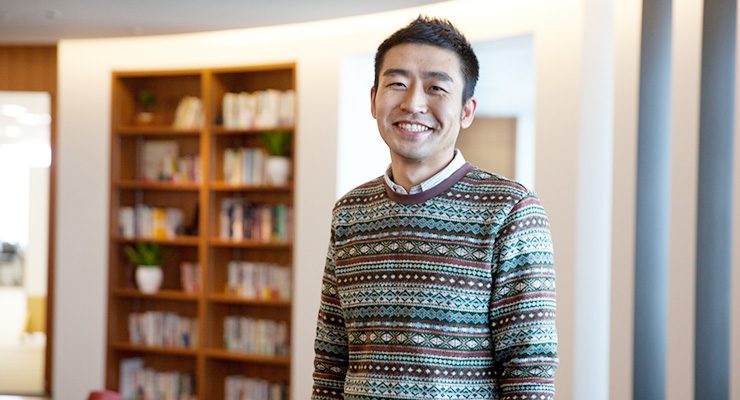 UNIQLO
Store Development
(Current:Store Development Director)
Planning is fundamental to the successful launching of new stores. Developing stores across Asia, Hyun Jong uses his global perspective to make sure that FAST RETAILING brand stores have a strong presence and offer customers an unforgettable experience. As a member of the Store Development team, he travels frequently – busy but enjoying every minute of it.
What is different about working at FAST RETAILING?
I worked in TV news before joining FAST RETAILING. Constantly trying to keep up with what was going on and figuring out which stories have international appeal was stressful. The greatest difference with my work at FAST RETAILING is how much more rewarding it is. I take the reins instead of just waiting for things to happen. Searching for property, negotiating and seeing stores through to their openings keeps me going.
What do you like most about your current job?
I am on the Store Development team and am tasked with the GU and UNIQLO brand in Japan and UNIQLO in South Korea and Taiwan. This involves formulating and checking materials and reflecting on past store development to devise strategies for even better store development moving forward. Initially, I thought store development was only about real estate and finding the right locations. My role and outlook has evolved. Over the past few years, I've learned to see a bigger picture, to think ahead and to think in terms of things such as balance. Incorporating the customer's needs and making the store easily accessible is as important to the experience as high ceilings to show off merchandise. Understanding the details and viewing things from new angles is essential to working at FAST RETAILING. I find this struggle to perceive the greater picture an endlessly fascinating component of my job.
How do you maintain a work-life balance?
Developing stores in many countries means I travel often. Instead of just going for meetings or to put out fires, I go with the mindset of a shopper. I want to see a store from the vantage point of the customer, to see if the store has a strong presence and if it is a pleasant location to shop. When I approach my work from this angle, it is enjoyable and helps me to keep a good balance. Long working hours and business trips don't have to mean a dull life.