Employee Interviews
Metaphorically, I think of UNIQLO as a mountain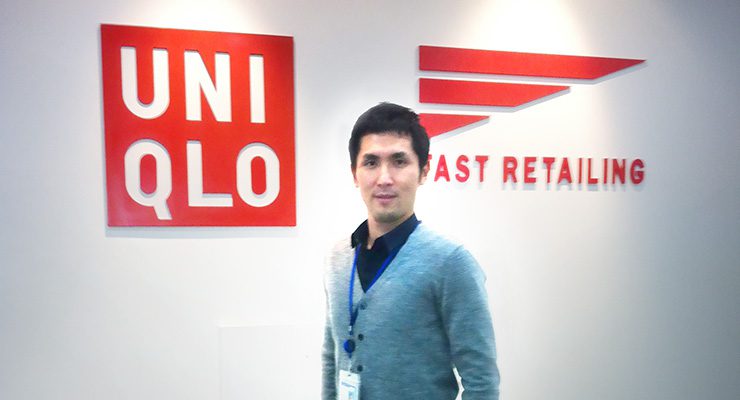 UNIQLO
China Production
(Current:Kids Production Team Manager)
Tagami left a sales position at a domestic home furnishings company to join UNIQLO in 2011. After a stint working in the Shanghai production office including time in production merchandising, today he works in the Indonesia production office.
What led you to choose to work at FAST RETAILING?
In my former job I worked in the home furnishings industry for a firm that manufactured items for sale both domestically and internationally. I was content with the company. I was in charge of our business with UNIQLO. The more I had occasion to come into contact with UNIQLO and its corporate culture, the more I felt that something was missing in my own career. When I made the move I felt like I was going to be moving up and playing in the "major league." UNIQLO is aiming to be the world's top company and it is gathering top talent from around the globe to do so. I wanted to test myself alongside the best and push the limits of my growth.
Tell us a bit about your career at UNIQLO.
After joining the company I was posted in Shanghai. I worked in production on the fabric team learning the fundamentals from planning to production merchandising. Currently, I am in Indonesia, which promises to be a major production base in the future. I am in charge of the manufacturing plant and supervisor, which makes me responsible for production and plant-related management issues, including delivery management and product quality management. In addition, as a new office, I am also in charge of training and bringing the staff up to speed. I am on the frontlines of making what we call "truly great clothing." My overarching goal is to make our Indonesia production base one that rivals our operations in China.
What would you characterize as the major strengths of FAST RETAILING?
There are several strengths, but I would say that hands down our primary strength is our unwavering emphasis on customer satisfaction being of paramount importance. However, this is actually more than a strength—this is also a point of pride. As a company we are always trying to do the right thing. We look beyond the superficial. We try to make truly great clothing. We are aware of our responsibility to society and all employees are aligned toward the same goals so that we can say with pride that our company is a good company—these are our strengths.
How does FAST RETAILING encourage personal and professional growth?
FAST RETAILING is a workplace that operates by the rules of competition at all times. With a wealth of competitors it is the perfect place to grow. This has to do with speed and experience: here business moves at a breakneck pace so you will do more, faster. Accruing better experience rapidly is a recipe for growth and success.
What do you do when you aren't working?
At UNIQLO, work is very on or off—very binary, so to speak. When you work, you work hard. When you are off, your time is really your own. I spend my downtime reading, studying or relaxing with my wife, which makes her happy.
Do you have any words for prospective applicants or aspiring UNIQLO employees?
Metaphorically, I think of UNIQLO as a mountain. It is a mountain that has its sights on being the tallest in the world. Personally, I couldn't not try to climb it. If I didn't jump into this field with both feet, then I felt like I would be running away from the most promising opportunity for growth. If you feel that way as well, then I hope to climb to the top of the world with you.