Employee Interviews
Where I plan testing the limits of my own growth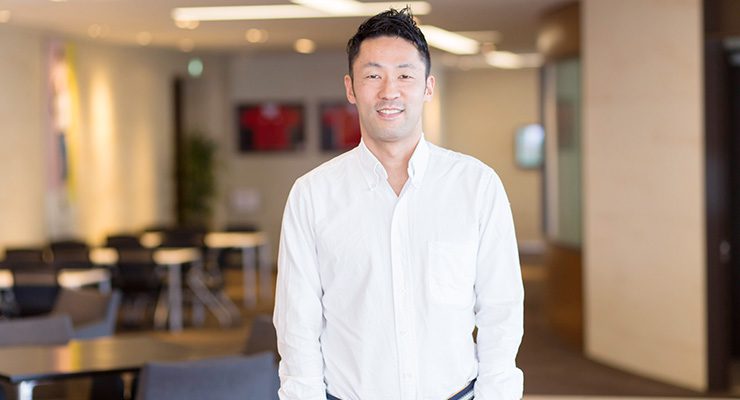 UNIQLO
Global Marketing
Product Marketing and Communication Team Leader
(Current:Global Marketing Department Director)
Takada left a job working in the music and film industries in 2009 to join UNIQLO. Since then he has been instrumental in the global marketing of the UT line and he has had a hand in formulating communication design initiatives for some of the biggest UNIQLO stores in Japan.
Please tell us about what you do.
I work with the UNIQLO line of T-shirts, UT. These are more than T-shirts and more than mere apparel. UT is a medium that communicates art, culture and more through graphic design. These products also communicate messages that express individuality and are a wardrobe that transcends borders and generations. I am involved in establishing UT as a type of global communication. My goal is to nurture UT into a bigger business and show that the value of UT items exceeds mere T-shirts and also goes beyond the conventional concept of a T-shirt.
What are some of the more memorable projects or noteworthy aspects of your work?
I never cease to be amazed that I get to work with these incredible creators that represent the best of what Japan has to offer. Working with these talents to come up with ideas and execute plans is tremendously exciting. I have worked on a number of innovative initiatives, including pop-up stores that were visited by throngs of people and the opening of our BICQLO store which through creative communications saw a record 4,000 person line at launch. And we are implementing surprising projects with our marketing staff overseas as well. A job that can have this much impact on society is extremely rewarding and made possible by the massive platform that is UNIQLO.
What stands out for you about the work environment?
My career at FAST RETAILING has been a lesson in the power of good people. Since the day I started, I have been impressed by my superiors and the reliability of our employees, not to mention the way that we manage to bring together our colleagues and partners worldwide and focus our efforts on being number one in the world. It is an environment conducive to achievement and growth and one where I plan testing the limits of my own growth.
What would you characterize as the strengths of FAST RETAILING?
The work volume and speed when it comes to projects here is something that would have been unimaginable in my prior job. There is no room for compromise. Things change rapidly. Ours is a fast-paced workplace where rapid decisions and execution are essential as we efficiently handle the diverse responsibilities we shoulder. Much is expected of you. You will be challenged and it won't be easy. But the company is there for you and the people around you are supportive.
What do you do to unwind and to balance your work with the demands of your life?
In my job, my work hours are relatively less flexible than other positions and have me out of the office quite a lot. FAST RETAILING is adamant about reducing overtime and encourages us to take manage our time well and to take sufficient time off. Each year I take around two weeks and go on a trip. I use my holidays to relax by doing things that I like. I also take my child to nursery school each day. All in all, I think that you will find that FAST RETAILING is a place where it is relatively easy to achieve a good work-life balance