Employee Interviews
The Importance of Perspective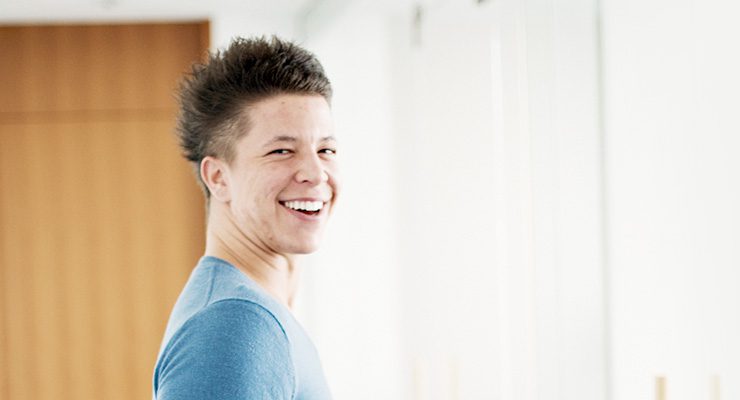 UNIQLO
Global Marketing
(Current:UQUS Marketing / In-Store Marketing & Communication Manager)
Leon brings fresh insight to and infuses his marketing work with a working knowledge of multiple cultures. After working as a Store Manager and in inventory control, Leon today is tasked with creating compelling in-store advertising, signage and messaging for kids, baby and other items. Although relatively new to his position, experience gained at special stores in Tokyo such as BICQLO and Ginza's UNIQLO Marché is helping him contribute to FAST RETAILING's goal of becoming the world's leading apparel retailer.
The Importance of Perspective
I grew up in Torrance in Los Angeles. Around 70 percent of Torrance residents are Japanese. I learned the language from my friends and I visited Japan during school breaks starting when I was 16. I ended up coming to Tokyo as a graduate student.

UNIQLO had been on my radar since I worked part time as a sales associate in a competitor's store, another international fashion brand. My experience has taught me firsthand that quality, customer service and employee education satisfy customers and set UNIQLO apart.
What You See is What You Get
Before I started, I knew only the public perception of UNIQLO—that of a responsible, straight-shooting company that takes care of its hard-working employees. Now that I work here, I know that image is an accurate reflection. I constantly sing UNIQLO's praises to friends who are job hunting, telling them about our competitive pay, housing support, 401K plans and even stock options.
Man with a Message
UNIQLO's goal in expanding overseas is about much more than just gaining acclaim. As a company, we want to contribute to making a better world. We want to give something great to the world, and clothing is the medium. Our products are not cheap clothing, but have value from a number of perspectives. As such, understanding other cultures is key to communicating the value of and values inherent in our products. Marketing is the perfect tool for the job and I think this is an area where I can use my skills to contribute greatly.

That's why my current goal is to work in the US as a global marketing leader. I'm not just looking for a ticket back to my hometown. The US is a new and developing market, and as an American with work experience in Japan, I feel that I have a lot to offer.
Constant Education
I started out as a Store Manager with my sights set on marketing. After a year I felt ready to make the change. Then someone gave me some great advice. They pointed out that I had only been a Store Manager for a year and that if I moved to marketing without grasping the big picture, I would end up implementing marketing from a limited perspective. So I went to inventory control and experienced how inventory works for not only Japan, but for Russia, Europe and the US.

This was key because it gave me a finer understanding of the nuts and bolts behind decisions related to inventory, such as whether we should add 100,000 units of an item selling well in Japan to American stores. In short, I acquired a strong fundamental understanding of parts of the business that informs my current work in marketing. FAST RETAILING is a place where you will progress at the right time for you to grow.