Employee Interviews
It really doesn't feel like a place of work but rather like a second home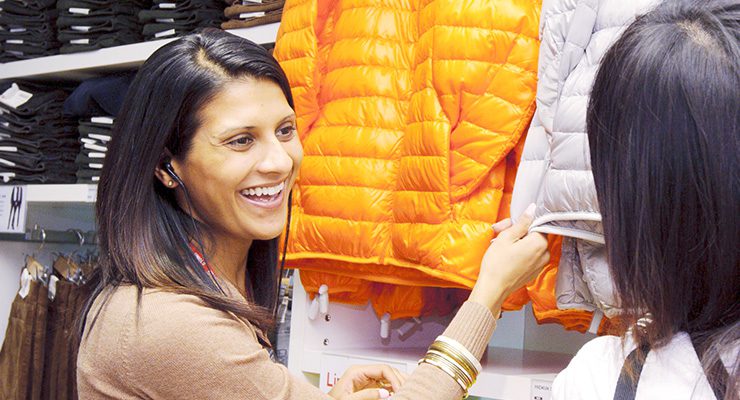 UNIQLO

(Current:EU Customer Services Director)
Graduating from university with an unclear career path, Harinder' encounter with UNIQLO was timely, fortuitous and has no end in sight. A friend working at a UNIQLO store in London approached her about working as temporary staff over the year-end holiday season.

"To be honest I didn't know much about the brand as it was relatively new to the UK. My friend told me briefly about the company, the products and the type of people they were looking for. I was impressed and thought I would give it a go," Harinder says.

After joining UNIQLO in late 2002 as a temporary customer advisor Harinder worked the store floor, maintaining the floor, replenishing products, providing customer service, handling deliveries and cleaning. Impressed by the working environment and integrity of the brand she stayed on.

After she began working full time in 2003, she was promoted to assistant manager and her responsibilities expanded to handling all aspects of the store in the store manager's absence. Subsequently, promoted to store manager she assumed even more responsibility, managing all aspects of the store and liaising directly with headquarters.

"FAST RETAILING's strength lies in its beliefs, mission, vision and goals as a company. The brand is clear in its goals, short-term, mid-term and long-term. And because the company is very transparent the employees are all on the same page. There are no limitations. Everyone who works for FAST RETAILING is encouraged to think as a business owner, take action, to see the results and reap the rewards," she says.

After spearheading successful store openings and working as general manager at a flagship store, Harinder was promoted to the post of area manager.

Currently general manager of UNIQLO Regent Street Store, she works very closely with store managers, assistant managers and store staff to further develop their skills through work on the store floor.

"What I value most in my work are the "people" I work with—from the most junior (customer advisors) to the most senior (CEOs). There is no hierarchy. Everyone is there for each other when they need to be. Ideas are shared and discussed at all levels, and people are willing to do whatever it takes to achieve great results! There is a great sense of team spirit. It really doesn't feel like a place of work but rather like a second home," she concludes.