Last Updated: 2017.05.30
to Japanese page
Supporting personal career development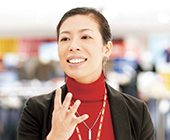 The Fast Retailing Group believes in giving all employees, regardless of background, the opportunity to fulfill their goals and aspirations. To ensure our workplaces help our people reach their full potential, we started with globally fair and transparent evaluations. We have developed a global grading system so that all our employees are evaluated by the same standard, which leads to fairer evaluations and more opportunities for growth. Promotions and transfers within the company are conducted on a global level, across business divisions, to make the most of each person's experience.
Skills Assessments and Employee Transfers
The Fast Retailing Group plans to introduce 360-degree basic skills assessments rated by employees' supervisors, peers, and subordinates. By accounting for all skills, not just tangible results, this method is designed to ensure fairer evaluations, enhancing the growth potential of each employee. Promotions and transfers at Fast Retailing are conducted on a global level, across business divisions, to make the most of each person's experience and abilities based on their basic skills assessment. Transfers are started early so employees gain a wide range of work experience and skills.
Globally Fair and Transparent Evaluations
To realize fair and transparent evaluations and remuneration systems, the Fast Retailing Group has introduced a global grading system with universal requirements for each position. Under this system, all of our employees worldwide are evaluated by the same standard, based on set targets. These evaluations, along with promotions, rank adjustments, and other associated decisions, are conducted quarterly.

Even though the evaluation criteria have been standardized through the application of the global grading system and other benchmarks, fairness is impossible to maintain if the evaluators interpret the criteria differently. In 2015 Fast Retailing introduced the Grade Distribution Guidelines, which are shared globally throughout the entire Group, in a bid to prevent national and regional biases, evaluators' biases and performance biases from creeping into the evaluations, ensuring the evaluations remain fair and lead to personal growth.
Global Evaluation Board Meeting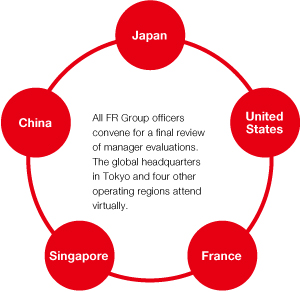 Fast Retailing compares the various operations' distribution of grades against the entire Group's median and global median and provides feedback about discrepancies in the evaluation criteria and other matters to the personnel in charge of evaluations at its various operations. The regional operations' business managers and executive-level managers normally oversee evaluations, while the Global Evaluation Board, which all Fast Retailing Group senior executives are members of, discuss the performance assessments and promotions of managerial-class or higher personnel. The Board makes adjustments that are shared across the entire Company for each grade and managerial position to ensure the evaluations remain fair and transparent.
Developing our next leaders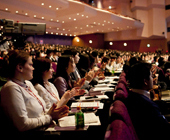 Fast Retailing biannually hosts conventions to enable as many employees as possible to build relationships with leaders and learn more about the Group's vision and business mission. Conventions are held in Tokyo and in 2016, we added regional conventions around the world.
Fast Retailing offers universal training opportunities for employees. To make sure training is tailored to our employees' unique career goals, we have developed a new training curriculum. It has been designed to turn new employees into business leaders within 10 years.
Our Future Global Leaders Program, made up of 50 employees that mostly have the title of Manager or Director - and one third being women - aims to develop our most talented workers who are seen as potential successors to the executive management team, and resolve key business issues across the group or a specific country.
The Mirai Project launched in 2014 (Mirai meaning future in Japanese) and is designed to challenge talent to create a new business proposal and execute it. Sixty employees are involved, with 70 percent from outside Japan.
The Future Global Leaders Program and Mirai Project include active participation and direction from top management including the Fast Retailing CEO.
Flow of 10-Year Training Curriculum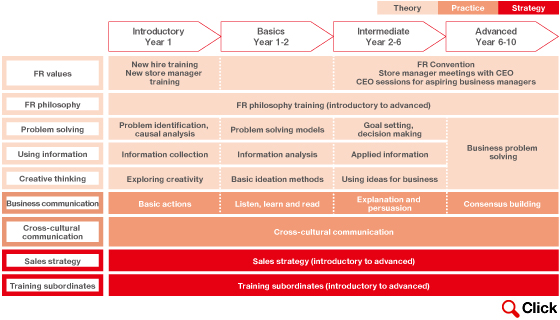 Strengthening Global HR Management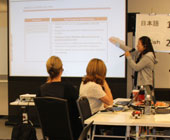 The Fast Retailing Group regularly holds a Global HR Conference, which is attended by HR personnel from around the world. The number of incoming and outgoing personnel, the number of promotions, the ratio of men to women and other basic information in the area of HR are shared across the Group and globe, and issues and corrective measures are discussed. The number of outgoing personnel and other areas requiring immediate response receive particular attention. The underlying reasons, the corrective measures' effectiveness and other topics are mutually checked across borders, regions and operations. The findings become the basis of evaluation systems, remuneration systems and training systems.
Fast Retailing has also begun development of an HR system that enables smooth, efficient, management of Group and global personnel transfers aimed at personnel development and corporate growth. To that end, we have begun compiling abilities, grades and careers of employees throughout the world on a database. We are working to complete the new system in 2017.

Top of page