Last Updated: 2017.05.30
to Japanese page
Employees as Community Outreach Leaders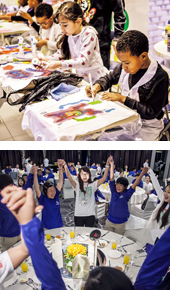 Fast Retailing promotes community outreach initiatives that are led by local employees who are sensitive to the local needs in the countries and regions it operates, with the belief that communities can continue growing only if the companies that serve them and their employees are active, responsible contributors.
The All-Product Recycling Initiative involves Company employees going to domestic and international sites to donate clothing that was collected at the stores. The Power of Clothing project sees area managers and store managers visiting local schools and teaching children about the global refugee issue.
Company employees advance and organize the In-Store Shopping Experience, which is held at stores; Closet for Needs, a program that extends aid to women who are victims of domestic violence; and other community-level initiatives that harness clothing, the Company's main line of business.
It is vital for the employees to personally champion a good cause if Fast Retailing's sustainability initiatives are to be inextricably associated with its operations. Personally participating in sustainability activities enables Fast Retailing employees to appreciate how they and their company can benefit society and take pride in their company's initiatives. Such pride contributes to long-term growth of both the individuals and the Company.

Top of page