Last Updated: 2017.05.30
to Japanese page
Fast Retailing's Social Business in Bangladesh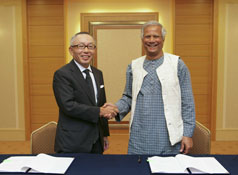 Bangladesh is one of Fast Retailing's important production centers. It is also one of the world's poorest countries. In a bid to alleviate Bangladesh's social issues, Fast Retailing established a new company, UNIQLO Social Business Bangladesh Ltd., in September 2010 with the aim of operating a social business. The following August we joined forces with the Grameen Bank Group, the leading proponent of social businesses, and established a joint company, Grameen UNIQLO Ltd., with the Group's Grameen Healthcare Trust. We are leveraging our SPA (Specialty store retailer of Private label Apparel) model to promote measures aimed at reducing poverty, increasing employment, promoting self-reliance, and growing industry. Since its establishment we have worked to raise the quality and scope of the social business because we consider the challenge an important element of our mission, which is to enrich people's lives through our business initiatives.
The social business leverages one of Fast Retailing's core strengths, specifically its ability to efficiently mass-produce high-quality clothing. Planning, production, and retailing are kept within Bangladesh. All profits are then cycled back into investment. We are applying our company's resources, such as production knowhow, store management methods and training programs, in a bid to grow the social business because we feel that the creation of new markets in Bangladesh's growing retail market will help address some of the nation's social issues.
Grameen Bank
Grameen Bank, founded by Prof. Muhammad Yunus in 1983, is the biggest microcredit provider in Bangladesh. Over the years, it has lent funds to approximately 8 million people, with 97% of them women. As of May 2010, it was operating 2,564 branches, with the total value of its loans reaching approximately 700 billion yen. Prof. Yunus and Grameen Bank were jointly awarded the Nobel Peace Prize in 2006 "for their efforts to create economic and social development from below," according to the official Nobel Prize website.
Business Cycle
Through its unique SPA business model, Grameen UNIQLO produces the kinds of clothing that Bangladeshis want at local factories that subscribe to the social business's philosophy. The merchandise is sold at reasonable prices, and all profits are reinvested in the social business.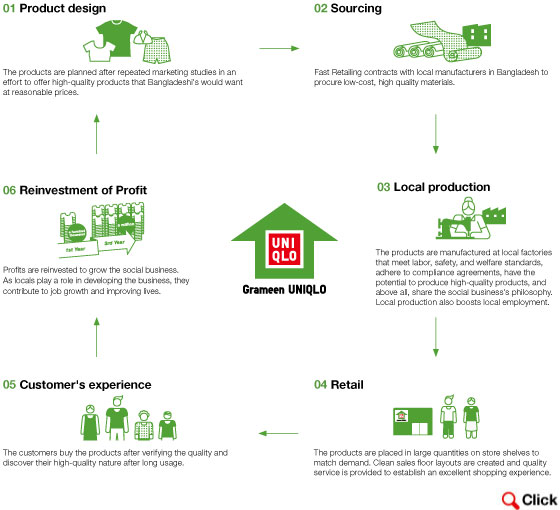 Top of page