Last Updated: 2017.05.30
to Japanese page


UNIQLO Supports JFA Soccer Kids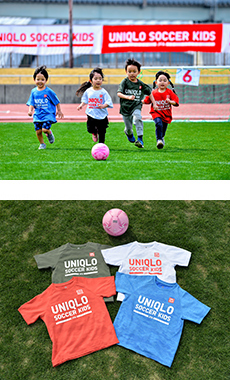 UNIQLO has supported the Japan Football Association's JFA Kids' Programme since 2003, and it has held the JFA UNIQLO Soccer Kids, a mini soccer festival for preschoolers six and under. The festivals have been popular with children and parents alike every year. The children feel as though they are pros after donning original UNIQLO uniforms that are provided free of charge and playing on a real pitch.
UNIQLO hopes that JFA UNIQLO Soccer Kids events will encourage more children to start playing sports, while giving them a chance to spend time with their families. This initiative will teach kids how to be independent and work as a team. The company hopes its clothing plays a key role in everyone's life.
UNIQLO will continue to offer LifeWear, clothes for a better life for everyone, everyday.
JFA UNIQLO SOCCER KIDS' Programme
JAPAN FOOTBALL ASSOCIATION (JFA)
TEL:03-3830-2004 (representative)

Top of page