Last Updated: 2017.05.30
to Japanese page
Supporting Refugees Through Our Business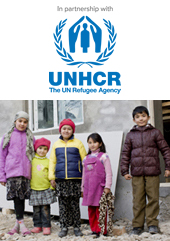 Fast Retailing has promoted clothing aid, in the form of the All-Product Recycling Initiative, and other aid initiatives since 2006 to address the refugee issue. The effort embodies the Fast Retailing Way corporate philosophy, which encourages the Company and its employees to act as morally responsible global citizens. Although there are limits to what we alone can do, we believe that every bit of assistance is a step in the right direction.
In 2011 Fast Retailing entered into a global partnership with the United Nations High Commissioner for Refugees (UNHCR)* −the first time for an Asian company. In 2015 the partnership was strengthened in response to the worsening refugee situation. We work with the UNHCR to alleviate the hardships refugees face primarily through our All-Product Recycling Initiative and other clothing aid measures.
* The UNHCR was established in 1950 to provide assistance to refugees. It actively seeks solutions to the many issues that such individuals face, while providing worldwide protection and support for displaced people. The agency, which received the Nobel Peace Prize in 1954 and 1981, is headquartered in Geneva, Switzerland.
Refugee Employment at UNIQLO Japan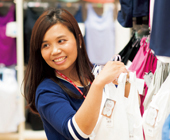 Fast Retailing offers an employment program at UNIQLO stores in Japan to refugees and their families whom the Japanese government has granted refugee status and residency. The internship is an element of the global partnership with the UNHCR.
Since starting the internship program in 2011 Fast Retailing has focused on accepting more refugees and providing support after hiring. Sustainability team members and others visit the stores to hear concerns about work and dispense advice on careers. We regularly host staff conventions at headquarters where employees who joined the Company via the program discuss concerns and share best practices. The convention of January 2016 included seminars that offered deeper insight into the sales floors and materials. It also included a seminar on how to set targets and draft action plans that will enable them to take the next step on the career ladder. Their store managers exchanged ideas as part of the effort to promote greater awareness of the refugee employment program.
Fast Retailing is working to do more than simply provide employment to refugees. We are in the process of enlarging the scale of the initiatives that includes the support for long-term employment. Our comprehensive efforts have earned critical praise from Refugee Assistance Headquarters, a support center that helps refugees living in Japan become self-reliant.
Empowering women with valuable skills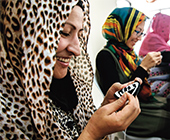 Living outside one's homeland can be a challenging time. Our partnership with UNHCR has led to unique projects that seek to improve the livelihoods of people while they find new homes. Together with French luxury brand Olympia Le-Tan, we launched the Self Reliance Project to empower refugee women with new life skills.
Refugee women living in Malaysia were given the opportunity to learn new embroidery skills by creating custom tote bags designed by Ms. Le-Tan. The bags were then sold in UNIQLO stores and all proceeds were used to support the self-reliance of refugees through UNHCR. The bags were a great success with all 2,000 selling out in a matter of weeks and fans sharing the project idea widely on social media.
Fast Retailing will provide a total of ten million dollars to UNHCR over three years from 2016. 5.5 million dollars of that support will enhance programs that aid in the independence of Malaysian, Indian, Nepali, and Iranian refugees.

Top of page