Last Updated: 2017.05.30
to Japanese page
Fast Retailing Maximizes the Value of Clothing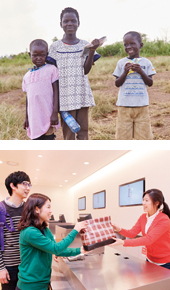 Fast Retailing does more than simply produce and retail high-quality, durable clothing. We collect, reuse, and recycle UNIQLO and GU branded clothing that our customers no longer need at our UNIQLO and GU stores because we feel that it is our duty to maximize the value of our clothing.
Our All-Product Recycling Initiative is part of this effort. Through the Initiative, we bring clothing to refugees and others in need with the help of the United Nations High Commissioner for Refugees (UNHCR)* and local NGOs. The Initiative began in October 2001 as the Fleece Recycling Program. We extended the Initiative's scope to include all UNIQLO products in 2010 and started the Initiative at our operations outside Japan in 2011.
We initially intended to recycle the collected clothing into fuel, but soon began donating it to refugees and internally displaced people with the help of the UNHCR. The priority shifted from recycling to reuse because the refugees' needs were pressing and much of the collected clothing was still wearable. The collected clothing, about 90% of which is still wearable, is sorted into the necessary quantities and types and delivered to refugees after reviews of viable destinations. The clothing that is no longer wearable (about 10%) is recycled into fuel.
Fast Retailing was collecting clothing at UNIQLO and GU stores in 16 countries and regions as of August 31, 2016. We have collected almost 54.3 million articles and have donated over 20.3 million articles in 62 countries and regions so far.
Fast Retailing feels that it is important for employees to visit the sites and study local issues and needs firsthand. Our employees regularly visit refugee camps and other sites of humanitarian crises to donate clothing, verify distribution, and speak to victims about clothing and daily needs. In 2016 we visited refugee camps in Uganda, Rwanda, Myanmar, and elsewhere under the auspices of the UNHCR.
* The UNHCR was established in 1950 to provide assistance to refugees. It actively seeks solutions to the many issues that such individuals face, while providing worldwide protection and support for displaced people. The agency, which received the Nobel Peace Prize in 1954 and 1981, is headquartered in Geneva, Switzerland.
Wide Range of Aid in Response to Needs

An increasingly diverse range of people throughout the world desperately need clothing, from refugees and other displaced people to pregnant or nursing mothers and their infants. Many economically disadvantaged people in major cities also need apparel. Fast Retailing is working not only with the UNHCR but also with local NGOs on these social issues.
In Germany, FR began a partnership in March 2015 with local NGO Berliner Stadtmission to distribute clothing to local people in need.
Currently in Berlin, over 65,000 displaced persons have sought asylum in more than 120 camps spread across the city. About 500 refugees arrive by the day, with new camps being opened regularly to accommodate the influx.
As part of the All-Product Recycling Initiative, FR donated almost 50,000 clothing items in January 2016 to support these people through the winter. The major distribution took place over the weekend of January 9 and 10. More than 50 employees from UNIQLO Germany and FR operations in the UK, the US, France, and Japan visited six refugee centers and distributed warm clothing items including Heattech to people living there, mostly families. The FR team also prepared the donation bags for smooth distribution in partnership with GO! Warehouse, a local logistics service provider.
The rest of the clothing were distributed at about 50 smaller camps across Berlin over the following weeks. The donated clothing helped keep close to 10,000 people warm through the harsh winter.
10 Million Ways to HELP Project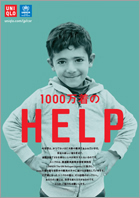 Fast Retailing expanded the size of the All-Product Recycling Initiative in 2015, the Initiative's 10th year, starting the 10 Million Ways to HELP Project in October in a bid to additionally collect and donate 10 million articles of clothing and offset the deteriorating refugee crisis.
We reached our target of 10 million garments ahead of schedule in May, thanks to our customers' donations and collection drives from companies, schools and other organizations, and our employees. By the end of August 2016, we had collected an incredible 14.9 million garments.
Fast Retailing's Educational Partnerships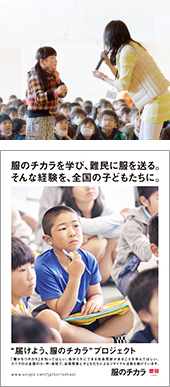 Fast Retailing in partnership with schools is holding the Power of Clothing Project throughout Japan so that more children become aware of the refugee issue. In 2009 our employees began visiting schools to make presentations, and in 2013 we upgraded the Project to a company-wide initiative. Children receive presentations about the harsh living conditions that the refugees face and the role of clothing. They are then encouraged to take the lead and try their hand at collecting clothing. After the seminars, photo reports showing Company employees visiting refugee camps and distributing clothing are delivered to the participating schools so that the children can see how the collected clothing benefits refugees.
Underscoring the Project's growing educational value, the comments of the participating children include the following: "I'm going to take valuable care of not only every article of clothing I wear but other things as well." "There are many young children in my neighborhood, so I plan to collect clothing they no longer fit into." The Project is promoting deeper understanding of global issues among the participating children. It is also fostering altruism by encouraging them to work with their local communities on initiatives. 270 schools and roughly 30,120 people from 47 cities nation-wide participated in FY2016 to gather together approximately 380,000 pieces of clothing for children.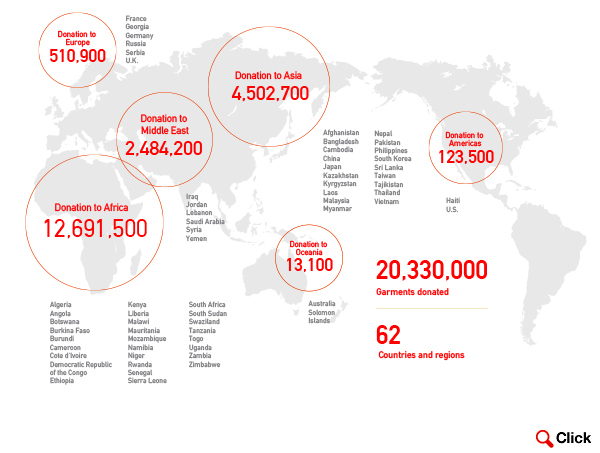 All-Product Recycling Initiative: Overview
Collection Methods
| | |
| --- | --- |
| Collection Period | Regular business hours |
| Collection Site | UNIQLO and GU stores in Japan, South Korea, U.K., U.S., France, China, Hong Kong, Taiwan, Singapore, Thailand, Malaysia, Philippines, Australia, Russia, Germany and Belgium |
| Collection Method | Place clothing in the Recycle Boxes in front of stores or notify staff |
| Valid Items | All products sold by UNIQLO and GU |
Key Points Before Donating Clothing
Please wash all items at home so they can be delivered in good condition
Torn or stained items that cannot be reused as clothing can still be recycled for industrial purposes to maximize their use
Fast Retailing's All-Product Recycling Initiative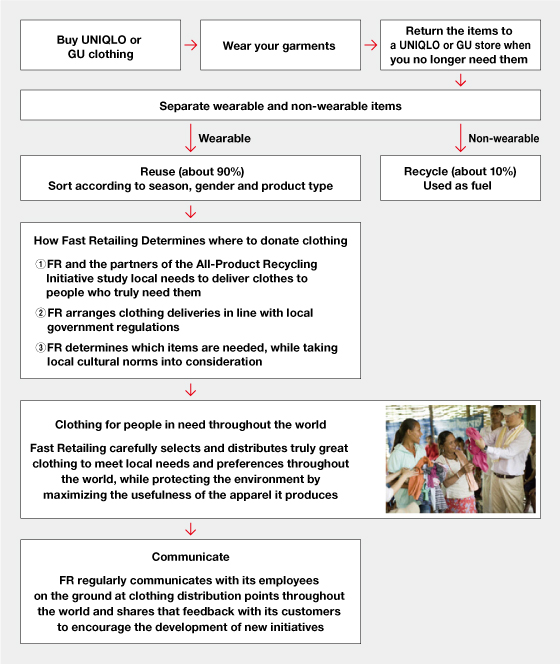 Items Collected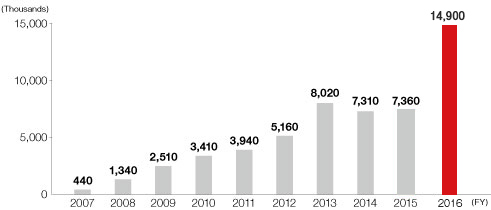 The Role of Clothing
Clothing is more than something that is worn. It has many roles. Through various initiatives, Fast Retailing is working to bring the joy, happiness and satisfaction of wearing clothing to as many refugees and others in need as possible.
Benefits of Quality Apparel
| | |
| --- | --- |
| Safety and hygiene | Clothing prevents scrapes, cuts and the spread of infections |
| Protection from extreme weather conditions | Clothing protects the body from the heat and the cold |
| Educational opportunities | Clothing can motivate children to go to school |
| Dignity | Clothing offers a means of self-expression |
| Social importance for women | Clothing offers women the opportunity to actively participate in comunity activities in the refugee camps |
| Independence | Clothing can encourage people to participate in community activities and work toward self-reliance |
| Reusability | Clothing that is no longer worn can be recycled and reused to protect the environment |
| Comfort | Clothing provides comfort for refugees and others in need |

Top of page