Last Updated: 2017.05.30
to Japanese page
Theory Japan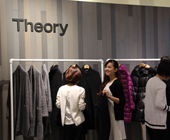 Theory Japan champions Closet for Needs, a initiative that aids abused women. Many women who flee domestic violence are forced to live within limited means at shelters for women and other havens. Through this initiative, such victims receive Theory brand clothing that is collected from employees. Stores are simulated to provide opportunities where the women can converse with the employees, who provide genuine service, while selecting clothing of their choice. The initiative uses Theory brand clothing as well as the employees' communication and fashion skills to rebuild self-esteem and confidence. Theory Japan laid the foundation for the project in 2015, when Theory executives and Fast Retailing's Sustainability team members selected the initiative from the many proposals that were pitched by employees.
Comptoir des Cotonniers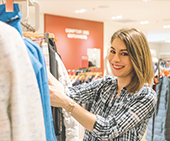 Comptoir des Cotonniers (CDC), one of our women's fashion brands, wished to support the empowerment of women in their local communities. Launching in France in 2013, CDC opened a popup shop providing new clothes and beauty advice to local women from disadvantaged backgrounds, for free. The effort was a success and was expanded to Spain and Belgium in 2016. Since its launch, more than 300 women have benefi ted from the pop-up shops.
Princesse tam.tam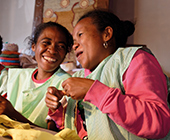 Founded by two sisters from Madagascar who wanted to find a way to give back to their community, Princesse tam.tam, a Paris-based Fast Retailing brand, established manufacturing in Madagascar in 2004. At the same time, they contributed 30 percent of the building cost of NGO Sekool - a school providing education to children from low-income, singlemother families - while supporting the mothers' own employment, health, and education needs.
In 2016, Princesse tam.tam and Sekool collaborated to make playful and socially responsible tote bags. Malagasy women were taught embroidery, with each woman sewing her first name on a bag depicting the colorful local markets of Madagascar. The bags were sold at select Princesse tam.tam stores and online, with €10 from each sale going back to Sekool. At the end of August 2016, more than €6,000 was raised for the school.

Top of page