Last Updated: 2016.07.25
to Japanese page


Support for
the Setouchi Olive Foundation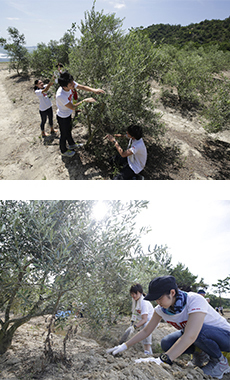 The Setouchi Olive Foundation was launched in 2000 by Tadao Ando and Kohei Nakabo to restore the natural coastal environment of Japan's Inland Sea. In particular, this initiative has focused on the island of Teshima, Kagawa prefecture, which was damaged by the illegal dumping of industrial waste.
In 2001, UNIQLO started soliciting donations at its stores in Japan to support the efforts of what would eventually become the Setouchi Olive Foundation. Its sister brand, GU, began soliciting donations from September 2011. The Setouchi Olive Foundation became an official nonprofit organization in 2007.
The Setouchi Olive Foundation has set up a website, "The Teshima Island School," to explain the historical significance of the Teshima waste-dumping scandal. The site also covers the way this issue was resolved, so the people of the island can share their experiences with future generations. The website is designed to encourage people to learn about the Teshima scandal and the efforts to protect its natural environment, so this issue is not forgotten.
Olive Harvest Fair
The olive shoots that were planted on Teshima in commemoration of the Setouchi Olive Foundation's establishment have grown to become large trees bearing fruit. In November 2014, Fast Retailing's CSR department organized the first series of olive harvest fairs in the foundation's history. Coinciding with the ripening of the olives, harvest fairs were held on three separate days. Selected from customers who have supported this initiative through the foundation, a total of 60 customers picked olives and watched oil pressed from olives. They also enjoyed a meal prepared by a famous chef who hails from Teshima. At the end of each harvest fair, Teshima residents gave tours that chronicled the Teshima Incident, the reason why the foundation was established. The fairs were a pleasing experience for many customers, who said they looked forward to more initiatives in the future.
Key Accomplishments
| No. of trees planted (from Nov. 2000) | 159,274 |
| --- | --- |
| Donations from customers (from Apr. 2001) | JPY 255,173,064 |
Promotion of the Employees' Understanding of Environmental Issues
Fast Retailing employees visit Teshima, an island in Kagawa Prefecture, Japan, and plant olive trees there. This initiative usually draws UNIQLO staff from stores in Kagawa and nearby Okayama Prefecture, in addition to employees from as far away as Tokyo and Kyushu. The Teshima initiative allows the employees to meet local residents, learn the history of the Inland Sea region and gain firsthand knowledge of a major environmental problem. In 2015, 159 employees participated in this program.

Top of page